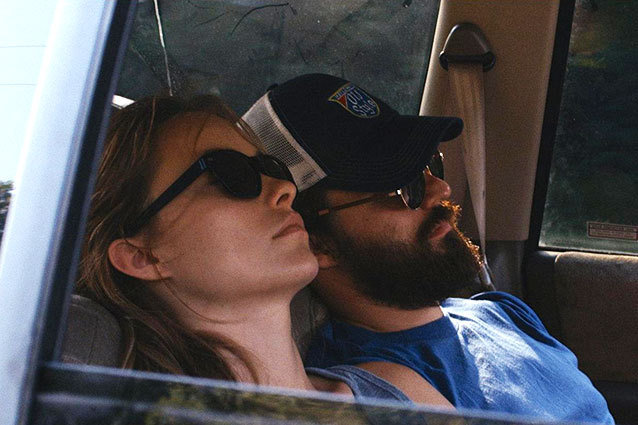 Within moments of meeting the cast and director of the new movie Drinking Buddies, you can see exactly why the end product turned out as funny, loose, and honest as it did. Their rapport in real-life is just as fast and loose and funny is it played out on screen. Case in point: while discussing blurring the lines of male-female friendships, the conversation bouncing between director Joe Swanberg, and stars Jake Johnson and Ron Livingston, sounded like something, well, straight out of a comedy. 
Joe: " I feel like when people who have had that kind of chemistry, through whatever means have gotten past it, and you've sort of gotten close to the flame and figured out how to stay close and create a boundary, those can become great friendships and you kind of have to push them past the breaking point and let them break a little bit and then you know where that is and then you both just agree to stay on your side of the line from there on out."
Ron:  "Or you f**k the whole thing up and move to a different city."
Jake: "Again."
Drinking Buddies, which opened to raves and boisterous laughs at the Paramount Theater at SXSW this weekend, is a sexy, smart will-they-won't-they romantic comedy about two friends Luke and Katie —played by Johnson and co-star/producer Olivia Wilde — who toy with the boundaries of friendship, flirting and their relationships — both to each other, and their significant others Jill and Chris, played by Anna Kendrick and Livingston, respectively. 
RELATED: SXSW Review: 'Drinking Buddies' is a Good Time, With Less Filler
But what sets Drinking Buddies apart from all the movies that ask the age old question "Can men and women really be friends?", aside from their refreshingly new take on it, is that this one was heavily improvised. Instead, Swanberg let his tremendously gifted ensemble take an outline and flesh out their characters into fully realized, fully flawed, but relatable people. Swanberg, Johnson, Kendrick, and Livingston all talked to Hollywood.com about the art improv, breaking rom-com stereotypes, and "the magic of four" in comedy. 
Swanberg explained why he's a fan of improv, and why it worked so well with Drinking Buddies. "It's so weird that the way that we make movies is that we have these scripts and these characters in our head and then you have to go find people who then either match your pre-conceived idea of the character or can create that character through the performance. But you're plugging real humans into fantasy constructs and it's always seemed bizarre to me." 
"When I meet with somebody to talk about doing a movie, it seems crazy to me to not incorporate the things that I like about that person into the movie," Swanberg continued, "Because, isn't that the reason why I hired them, because we had a great conversation or we liked each other? When I watch Drinking Buddies, it's so great for me because it's like all the things I enjoyed being around these four people are there in the movie. They can't not be, because of the way that we work, because we're actually engaging in conversations with each other, making the same kinds of jokes we would make. It's just such a nice little record of that moment of these four people interacting in a way where they're exactly the four people that I was like 'Oh yeah, these guys, they're great!'" 
So what real-life things wound up manifesting in the movie? "Jake does this funny voice sometimes that makes me laugh, [and] there's the funny voice in the movie. It's really allowing the things that are charming, or annoying, all of that full spectrum of somebody... it's just creating a stage for those things to be captured, versus that person becoming a character on pre-written stuff." 
For Livingston, the improv aspect was "scary and freeing." He explained, "There's that night before you start a film where it's like, 'This is awesome, I don't have to learn any of my lines,' and then you realize, 'But I am gonna have to shoot a scene!'" 
But it's that very nature of improv that allowed the cast to create characters that live well outside the confines of most romantic comedy stereotypes. Take, for example, the overused trope of the shrill girlfriend or jerk boyfriend, simply used to lessen an audiences guilt about cheating or as a prop to push the would-be couple together. (Johnson jokingly altered his voice to sound like what that annoying character would have sounded like in their movie, "You're not allowed to hang out with your friends and drink beer! But I love you!") In Drinking Buddies, however, Kendrick's character Jill is anything but. In fact, you find yourself rooting for her, then against. 
It was something that was important to Kendrick, creating a character that was not only likable, but walking the fine line of not being the villain. "That was something that, because there was no script per se, I was worried the audience would anticipate her to be that. And that that was something we would have to actively fight against. I didn't feel that Joe was going to push me in that direction, but I was concerned that would be the assumption."
RELATED: 5 Movies to See at SXSW
Kendrick made sure that nailing down what might seem like minor details, would actually be a major influence for how viewers percieve the character. The actress recalled, "I remember my first day [shooting] during the wardrobe fitting, every time I put on something that was a little too school marm-y, I was like, the first time we see her it can't be like, 'So here's the thing about Jill: she sucks'." 
But for any comedy to work, improv or otherwise, at the end of the day it really depends on the actors and how they work with the material and each other.  In Drinking Buddies, the foursome of Johnson, Wilde, Kendrick, and Livingston, all bounce off of each other in a way that only four could. 
"I think it's like a team," Johnson said. "When you have a two-person thing, then you guys have to fill the voids with each other. With four, something like this, everyone in this cast is very good, so you don't need a star on this team, a Michael Jordan per se...you can win with the group. You either go hard for the laugh, or go hard for the moment or go hard to support a laugh or support a moment. With four, if everybody's good, it's fun." 
Livingston said he likes how the dynamic of four "can shift to be really balanced or or really unbalanced and all it takes is one person walking away to go from unbalanced back to balanced again", while Kendrick cited "chamber plays, like Dinner with Friends and Closer and Through A Glass Darkly. I think there is something magic about four, for exactly that reason. Things get messy." 
RELATED: SXSW Review: 'The Incredible Burt Wonderstone' Should Have Disappeared From SXSW
Of course, for every unplanned, on-the-fly moment of Drinking Buddies, there was one that Swanberg planned: to have a character named Gene Dentler. In Drinking Buddies, Wilde's real-life beau Jason Sudeikis plays her and Johnson's boss Gene Dentler. "That's a cool story that I'm happy to tell," Swanberg said, "My friend David Lowry, he had a movie at Sundance this year called Ain't Them Bodies Saints. They started shooting the same day we started shooting Drinking Buddies and for both of us it was bigger projects than either of us had ever done before. We were texting and we were like, 'We should have the same character in both movies just as a little hat tip. There's a cop named Gene Dentler in his movie and Sudeikis plays Gene Dentler in ours. The name plate on Sudeikis' desk [in Drinking Buddies] that says Gene Dentler, we sent down to Shreveport and he shot it in his movie, too." 
In a fittingly off-the-cuff moment, Kendrick marveled at the anecdote, "That's amazing, I had no idea!" 
[Photo credit: Ben Richardson] 
Follow Aly on Twitter @AlySemigran
---
From Our Partners:

Kim Kardashian's Maternity Style: So Wrong? (Vh1)


60 Celebrity Bikini Bodies: Guess Who! (Celebuzz)