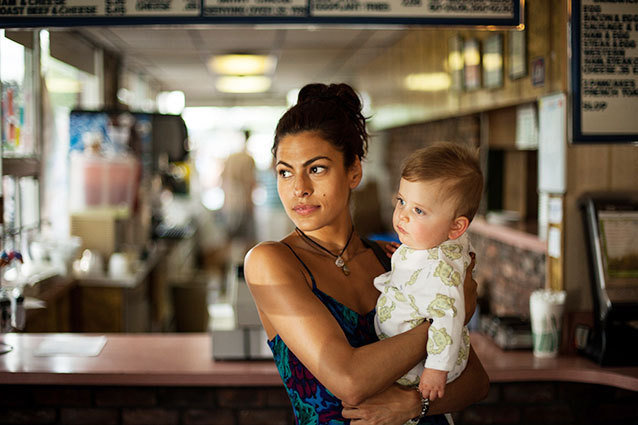 Eva Mendes is a loose cannon. That's a self-description, by the way.
My recent interview with The Place Beyond the Pines star opened with a bit of miscommunication, but only spiraled upwards. Mendes is as sharp, energetic, and audacious as they come, and her willingness to dive into any conversation helped turn a jaunty, "What did you say?" back-and-forth into a self-reflexive examination of her willingness to take risks. On Pines, director Derek Cianfrance demands spontaneity. He challenges actors by making them uncomfortable. That's why Mendes signed up for the movie in the first place.
"I wanted to be broken," Mendes says. "It's a very sick thing we go into. [To Derek,] I was like, 'Please, break me.' And he did."
Mendes recalls one particular moment of her loose cannon personality taking hold and the Cianfrance gauntlet of performance finally getting the best of her — the first time she ever walked off set.
RELATED: Ryan Gosling: 'What A Nightmare It Would Be to Work With Somebody Like Me'
"There's a moment in the hospital scene where I actually walked out of this hospital room when I wasn't supposed to — I haven't told that story to anybody!" Mendes says. In the second half of the film, Mendes' character Romina arrives at the hospital to find her son all banged up. The actress tells us that what we see on screen — a mother fretting over her son, a mother shaken by a violent incident, and a mother drained of energy continuing to run on fumes — is totally legit.
"I'm there and so frustrated, in character. Derek creates this wonderfully real, raw environment," Mendes says. "I made myself stay up that whole night in my room, obsessing. Because as the mother of this child, she would have been staying up all night with this child. I didn't wash my hair for two days. I was in it."
The "method" acting started bubbling up inside Mendes like a heated pot of water. It eventually boiled over. "I was a little stir crazy," she says. "Derek had me do it over and over and over again. I wasn't nailing it. And I was a loose canon in the sense that I walked out of his shot. He said, 'Get back here!' And I was like [Mendes huffs and puffs]." Mendes quickly returned to set, no harm done. But the explosion ended up being fuel for the scene. "I got back in and did it. But it was the first time I walked off a shot. I think [Derek] liked it."
The Place Beyond the Pines follows a string of career moves for Mendes that challenge the audiences' perception of the actress. She's not playing second fiddle. She's not tabloid fodder. She's lighting up the screen in challenging roles, bringing everything she has to each part, and losing control in all the right ways when she's on set. Mendes hopes her choices draw her fans to movies they wouldn't normally catch at the theater. "I would hope that certain people, that may follow what I'm wearing to the liquor store, would say, 'She's in this movie?' Then go see a movie they would never see."
RELATED: RELATED: Ryan Gosling's 'Pines' Aims For a 'Godfather'-Style Slow Burn
Follow Matt Patches on Twitter @misterpatches
[Photo Credit: Focus Features]
---
You Might Also Like:


15 Oscar-Winning Nude Scenes


10 Insane 'Star Wars' Moments You Didn't Notice