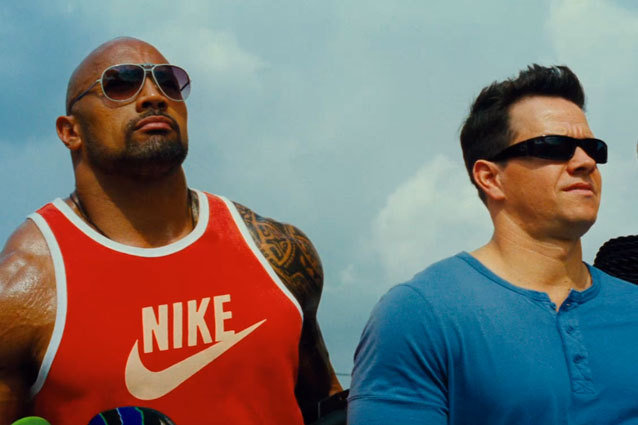 Don't piss off bodybuilders with nothing left to lose. Michael Bay's newest movie, Pain and Gain, stars Mark Wahlberg, Dwayne Johnson and Anthony Mackie, and is — shockingly — based on an unbelievably true story.
The film follows a group of personal trainers (Wahlberg, Johnson, and Mackie) who team up in early '90s Miami in pursuit of the American Dream, but end up getting caught up in a criminal enterprise that goes horribly wrong. Mix in bulging biceps, babes in bikinis, and shriveled ball jokes (plus the requisite car chases, gun fights, and explosions worthy of a Bay film), and you've got yourself one new red-band trailer for the muscle-obsessed movie.
RELATED: Mark Wahlberg and The Rock Get Jacked in 'Pain and Gain'
The $25 million true crime comedy also stars Rebel Wilson, Ken Jeong, Tony Shalhoub, Ed Harris, and Rob Corddry. Check out the for-grown-up-eyes-only trailer below:
Pain and Gain hits theaters April 26, 2013.
Follow Sydney on Twitter: @SydneyBucksbaum
[Photo Credit: Paramount Pictures]
---
You Might Also Like:


15 Oscar-Winning Nude Scenes


10 Insane 'Star Wars' Moments You Didn't Notice