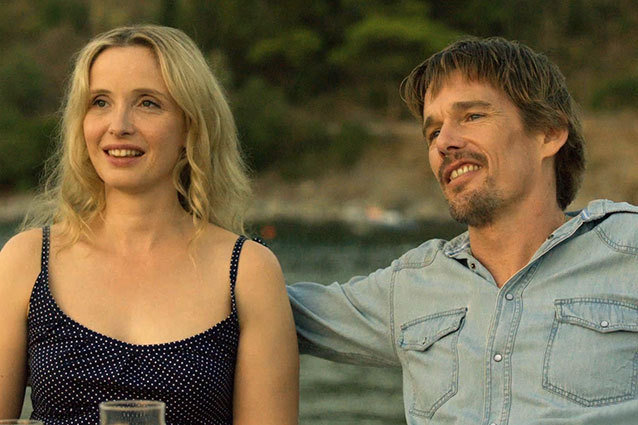 We live in an almost unavoidable culture of spoilers, the Internet a veritable mine field if you've missed a television show or recent movie release. Thanks to social media, folks on Twitter and Facebook will hashtag and retweet every big reveal and twist before you've even had the chance to hit up your DVR. Albums leak long before you even get the chance to download it to your iTunes and you'd better avoid brunch at all costs with your friends if you don't want to know the ending to that movie/book/TV show you've been dying to catch up on. It's plain and simple, if you have a computer or a loud mouth friend, you're going to get spoiled. (In case you missed it, Portlandia brilliantly skewered spoiler panic this season. Whoops, spoiler!) 
But something has shifted with spoilers as of late. Movie critics and bloggers, as well as some damn lucky festival-goers like those at Sundance and SXSW, have taken an unspoken oath: DO NOT SPOIL Before Midnight. Seriously,  that would be f**cked up. Don't do it. Because as tempting as it is to discuss, even in the vaguest of details, how lovely, funny, charming, sexy, heartbreaking, romantic, breathtaking, and downright perfect the third chapter in Richard Linklater's beloved Before series is (and I can assure you it is perfect), this one is sacred. This isn't some inspired Bill Murray cameo or what the Super 8 monster looks like, this is something deeper, something more personal to the fans that have followed the journey of Jesse (Ethan Hawke) and Celine (Julie Delpy) over the past 18 years since their first fateful meeting in Vienna. 
RELATED: 'Before Midnight' Completes a Trilogy at Sundance, Questions True Love 
So it gives me serious trepidation to tell you to watch the first trailer for Before Midnight, which will stop by the Tribeca Film Festival before reaching audiences on Memorial Day weekend. I want you to soak in the lucious Greek setting, hear the heart-swelling score, and see that both Hawke and Delpy look older, but are hotter than ever. But there's a spoiler about the state Jesse and Celine's present-day relationship within the first ten seconds of the preview that I can't fathom why Sony Pictures Classic would want to show fans who have been patiently waiting for this. 
Still, if you have seen Before Midnight and you want to swoon all over again, this will be a glorious minute-and-45-seconds. If you want to go in with no spoilers whatsoever, I would suggest skipping ahead a few seconds in the trailer. Or just waiting until May 24. Hey, you've made it for the past nine years, what's another couple of weeks? Watch it below, if the anticipation is killing you: 
[Photo credit: Sony Pictures Classic] 
Follow Aly on Twitter @AlySemigran
---
You Might Also Like:


15 Oscar-Winning Nude Scenes


10 Insane 'Star Wars' Moments You Didn't Notice