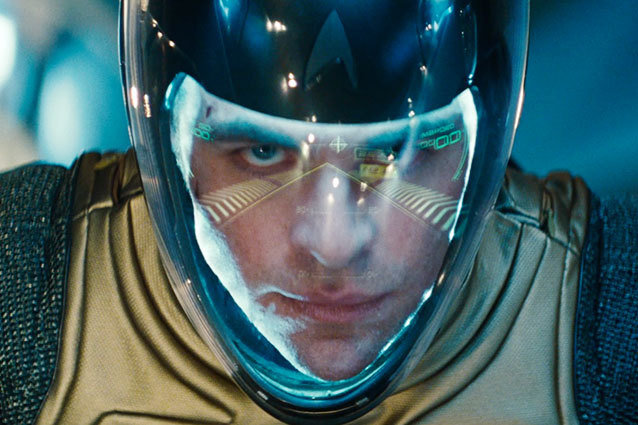 The third trailer for Star Trek Into Darkness has been released and, in case you couldn't tell from the first two previews, this is most definitely a J.J. Abrams production. The Lost executive producer, who put his magic touch on the first wildly successful Star Trek reboot back in 2009, is bringing back his brand of lens flares, all of his wide-eyed dramatic performances, and sweeping scores for the upcoming sequel. 
While some of the visuals in the latest clip are ones fans have already seen — like Chris Pine running through a red forest and jumping off a cliff into the ocean — there's certainly no lack of drama. Lines like "Darkness is coming" and "The ship's dead, sir, she's gone" (wait, did they mean the U.S.S. Enterprise?!) should send goosebumps through any Trekkie eagerly awaiting this noticeably darker follow-up. (Hey, it's right there in the title). 
Watch the entire trailer — which includes scenes of Benedict Cumberbatch in full-on bad guy mode and the crew's warning to "go get this son of a bitch" — below and check back later for Hollywood.com's Star Trek expert Christian Blauvelt's full dissection of the latest preview. 
What do you think of the third Star Trek Into Darkness trailer? Did it disappoint compared to the first two or just make you that much more excited for then the film hits theaters on May 17? 
More: 
'Star Trek' Into Darkness Poster: Who is Attacking the Enterprise...And Is it a Goner?  
'Star Trek Into Darkness' Crashes IMAX Site With Advance Ticket Sales 
The 'Star Trek' OMG Face Extravaganza!
---
From Our Partners


Jessica Alba Bikinis in St. Barts (Celebuzz)


Which Game of Thrones Actor Looks Least Like His On-Screen Character? (Vulture)