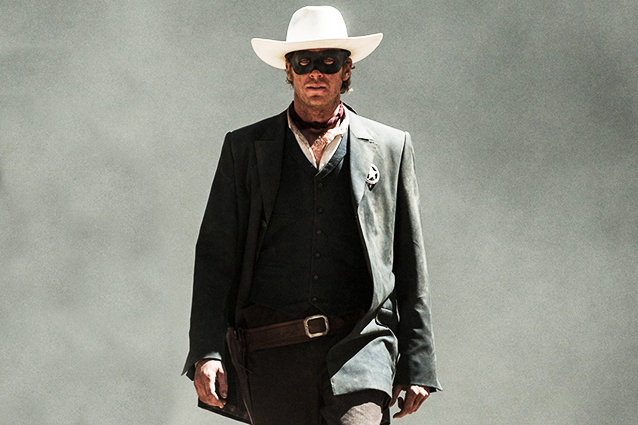 Before Armie Hammer remakes one classic television show with a movie star (The Social Network actor will play opposite Tom Cruise in a big screen adaptation of The Man From U.N.C.L.E.) he's first got to debut his other remake of a classic television show with a movie star: this summer's The Lone Ranger with Johnny Depp. 
On Wednesday, Hammer helped introduce the 20 minutes of footage from the Disney flick (he was not lone, however, as he was accompanied by his co-star Ruth Wilson and producer Jerry Bruckheimer) that were seen by a lucky few at last week's CinemaCon in Las Vegas. 
The footage, which — SPOILERS AHEAD, Kemosabe — takes place about 15 minutes into the action caper's running time, finds Hammer's clean cut lawyer John Reid attempting to arrest Depp's Tonto under some pretty rough and tumble circumstances: the two are on a train that is not only in the middle of a takeover by a gang of outlaws, but the train just happens to be speeding down unfinished railroad tracks. 
With John and Tonto (with Depp the full-on Native American garb, the overall look including his bird headdress, and makeup he came up with for his take on the character) quite literally attached to one another by a chain, the two must thwart off the evil Butch Cavendish's (William Fichtner) goons while on top of the speeding locomotive. In one instance, Depp's Tonto kicks a baddie through one of the train's windows, only to have him fall out of the other side of the train completely. (Yes, if you were wondering, the action and dialogue looks and sounds exactly like what you'd expect out of a blockbuster set for July 4th weekend). 
After the train inevitably crashes and Tonto and John miraculously survive — despite the locomotive stopping within an inch of their lives — the bumbling John takes the cool and collected Tonto into custody. Along the way, we also meet John's heroic Texas Ranger brother Dan (James Badge Dale), who gives his little sib a hard time for his courtroom demeanor and his nearly-botched arrest attempt on the runaway train. 
Back in town, Dan — who seems to have all the luck (as well as the hand of John's former love Rebecca, played by Wilson, despite the fact that the two still have eyes for each other) — enlists his brother to ride along with him and his group of rangers to find and stop Cavendish. Dan gives his brother their late father's badge, making him an honorary deputy. Meanwhile, Dan and Rebecca's young son sees Tonto in his jail cell, where he is chanting and making motions that create a bird-like shadow, scaring the boy off. 
When Dan and John ride off into the desert on their justice mission, in the midst of their brotherly ribbing (Dan makes fun of the size of John's crisp white cowboy hat) they come across a lone white horse standing on a mountain, which Dan explains is a spirit horse that can take you to the other side. 
Cut to: John... presumably on the other side. Well, next we see him he's high above a shaky looking wooden structure on an even taller mountain. John, dressed in entirely new clothes (though, his shoes are missing) and with paint on his face, almost steps off the tall structure. He somehow makes his way down (though in the footage we watched, it's uncertain exactly how he gets there) and comes across Tonto talking to the same white horse he saw before.
John soon learns that he is the only survivor of an ambush that killed his brothers and the fellow rangers. Tonto explains to John that he went to the "other side." Tonto was sent a sign that he was to join John on his journey. Later that night, as the two sit by campfire (joined by some ravenous, terrifying CGI jack rabbits), Tonto explains that he is on his own mission to thwart the ploys of Cavendish, a mission that John ruined by arresting Tonto on the train. 
When John discovers that one of the rangers betrayed the group, ultimately causing the death of his brother, he vows revenge. But Tonto explains that John was supposed to die, so he must ride with him on his mission in disguise (donning his famous black mask which covers his eyes). He tells his new friend "Kemosabe" that together, they can find justice. 
In these 20 minutes alone, it's fairly apparent that when it comes to Disney's take on The Lone Ranger, what you see is what you get: a big, rollicking adventure peppered in with humor (Depp delivers zingy one-liners like "Bird angry" and "Horse is stupid" in the Native American voice inflection as we've heard it for years on the big screen), eye candy (Depp and Hammer, who both look and feel their parts), a predictable romance (with Dan out of the picture, it's a safe bet John and Rebecca will reunite) and more action, loud noises, and sweeping shots of the vast landscape than you can shake a stick at. 
Think Cowboys and Aliens, but with Indians instead of aliens... or the Pirates of the Caribbean getting shipwrecked in the middle of the wild west. 
Bruckheimer, who has seen the first four Pirates films take in over $1.2 billion at the U.S. box office alone, has no problem drawing the comparison to the two. The producer told Hollywood.com at the footage screening, "Everybody says, 'Oh, it's a Western, nobody's gonna go see it', but Pirates was a good story and it transcended pirate movies. [The Lone Ranger] transcends Westerns." 
We'll see the rest of what Gore Verbinski's The Lone Ranger has to offer when it rides into theaters on July 3. 
Follow Aly on Twitter @AlySemigran 
More: 
'The Lone Ranger' Super Bowl Spot Has Thrills With Fire Balls and Train Chases 
New 'Lone Ranger' Trailer Has Our Heroes Workin' On the Railroad 
Is Tonto in 'The Lone Ranger' the Next Captain Jack, Kimosabe?
---
From Our Partners:


Eva Longoria Bikinis on Spring Break (Celebuzz)


33 Child Stars: Where Are They Now? (Celebuzz)