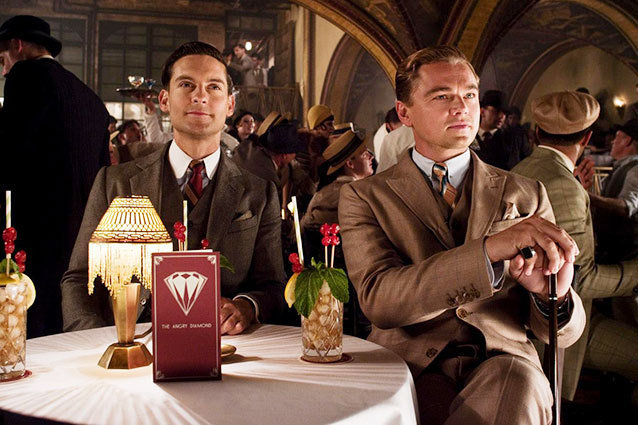 Fans of F. Scott Fitzgerald's beloved novel The Great Gatsby can easily remember the intense friendship between narrator and protagonist Nick Carraway and the beguiling Jay Gatsby. It is a delicate relationship not easily forgotten by any fan of the book, and it's one that Tobey Maguire and Leonardo DiCaprio (who play Nick and Gatsby, respectively, in the film) paid great attention to during the filmmaking process, thanks in large part to their "20 year" friendship outside of Gatsby's realm. 
At the press conference for the film, held at the historical landmark (and the site of one of the most pivotal scenes in Fitzgerald's text) The Plaza Hotel in New York, Maguire spoke about his connection with his longtime friend. "I think Leo and I have a very trusting and close friendship, so I think just the level of comfort we had in terms of the work process ... I definitely have affection for Leo so it's easy for me to have affection for Gatsby as Nick as well," he said.
But DiCaprio took it a step further, saying that in order to undertake a classic as beloved as Gatsby, he needed someone like Maguire to make him feel at ease as the mysterious title character. "To venture into a project of this magnitude, it really took a core of trust for me to feel comfortable, so to know that somebody I've known for 20 years, and Baz Luhrmann [was] involved, and Tobey was immediately involved in that process from the onset, was incredibly comforting," he said.  
But it wasn't just some sort of buddy system that made DiCaprio feel alright. Their friendship also informed their characters' friendship onscreen: "We're always extremely honest with each other. And for me, I don't know if this project would have happened if we didn't have that sort of relationship. We needed it, and we needed those checks and balances and contact with each other in order to be honest with one another," he added.
Of course, DiCaprio was being a little vague about just what he meant by having this system of "checks and balances" with Maguire, but Luhrmann stepped in to give a practical example, citing the scene they shot first: Gatsby's meeting with Daisy (Carey Mulligan) at Nick's cottage. Luhrmann asked the actors to take a break from their written lines and improvise a bit of dialogue, which ultimately made it into the final cut because it worked so well and the actors played so honestly off of each other.
"And that moment, I think it's one of the clearest, most connected moments of the film, and that completely came from the depth of their relationship ... it was one of the first things we shot and it's one of the most connected and truthful moments in the film," said Luhrmann. 
It's enough to put any skeptical fan of the novel at ease as we go into the film's May 10 release. While the relationship between Daisy and Gatsby is the one that reeks of romance and longing, it's the core relationship between Jay and Nick that drives the narrative, and in turn Luhrmann's film. As such, it's comforting to know that at the center of the film are two actors whose friendship drives and protects that precious story line. 
Follow Kelsea on Twitter @KelseaStahler
More:
Florence + The Machine's New 'Gatsby' Track Is Moody, Sexy 
Cannes Film Fest: Emma Stone, Ryan Gosling and More Head to France
Beyonce Steals the Scene in New 'Great Gatsby' Trailer
---
From Our Partners:


Beyonce Flaunts Bikini Bod for H&M (Celebuzz)


33 Child Stars: Where Are They Now? (Celebuzz)