With the mass of apocalyptic films that have hit theaters in the past few years — action/adventures, science fictions, comedies, romances, existentialistic dramas — we've seen the world taken down in a number of ways. Such a variety exists in the wake of this craze that we can never really tell how the end will come about in a newly announced movie on the subject. Debris falling from the skies and hordes of glowing-eyed monsters could mean anything: aliens, Judgment Day, an approaching meteorite that somehow affects people's brainwaves (don't scoff, people went nuts in Melancholia and Seeking a Friend for the End of the World).
As such, the mystery runs rampant in the new poster for The World's End, the latest union of comic actors Simon Pegg and Nick Frost with director Edgar Wright.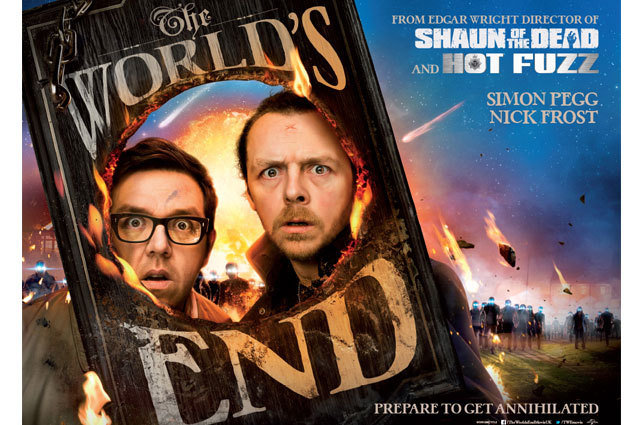 This trio has taken on cinematic tropes in Shaun Of The Dead (tackling zombie films), and Hot Fuzz (the buddy cop genre), and will presumably continue to explore the follies of Hollywood in the third chapter of their so-called Three Flavours Cornetto Trilogy. But what sort of global disaster are they taking on this time?
Both Pegg and Frost have had their share of extraterrestrial fun (together, in Paul, and separately, in Star Trek and Attack the Block respectively). As such, we're hoping for something more along the lines of an Armageddon-style end of the world. But do those glowing eyes, and Wright's assignment of this film as his "mint chocolate chip" movie (Shaun was called the "cherry," due to the bloody zombie motif, and Hot Fuzz the blue original, regarding the cop theme) mean we'll definitely be seeing aliens? Either way, it'll probably be good for a laugh.
Follow Michael Arbeiter on Twitter @MichaelArbeiter
More:
'It's a Disaster' Review
The 20 Weirdest Things About 'Star Wars'
'This Is the End': Watch Every Comedian You Know Die
---
From Our Partners:


What Happened to 33 Child Stars (Celebuzz)


40 Most Revealing See-Through Red Carpet Looks (Vh1)