One of this summer's most highly anticipated blockbusters is Gore Verbinski's action western film The Lone Ranger. Starring Armie Hammer and Johnny Depp, the movie is an adaptation of a popular 1930s radio show that spawned an even more popular television series in the 1950s. The series focused on the adventures of the titular Texas Ranger-turned-masked vigilante and his trusty Native American sidekick Tonto. Many years and several film versions later, Disney has enlisted the masterminds behind the Pirates of the Caribbean franchise to bring The Lone Ranger back to the silver screen, this time in 3D.
In anticipation of The Lone Ranger's July 13 release, Disney has released this behind the scenes look at the making of one of the most anticipated sequences in the film: The Spirit Platform. In this scene, The Lone Ranger himself (Hammer) wakes up on top of a rickety-looking platform, 2000 feet above the ground. The actor did not use a stunt double but instead climbed the platform himself and stood atop it while a camera-equipped helicopter camera flew by to capture the action. Hammer described the experience as "intense."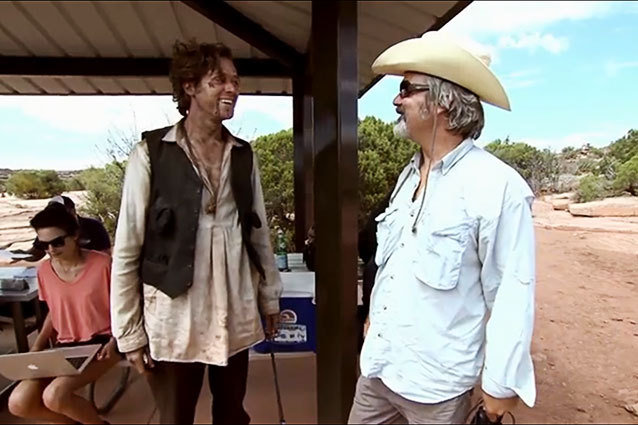 If The Lone Ranger performs well at the box office, we may get to see Armie Hammer don a black mask and white cowboy hat alongside a face-painted Johnny Depp many more times in the future. Producer Jerry Bruckheimer is already looking to turn the film into a franchise à la Pirates of the Caribbean. So, will Depp's Tonto be the new Jack Sparrow? Fingers crossed that this movie is good, but until then, all we can say is, "Patience, kemosabe."
Follow Caroline on Twitter @carolinesb | Follow Hollywood.com on Twitter @Hollywood_com
More:
'Lone Ranger' Trailer: Is Tonto Depp's Next Captain Jack?
'The Lone Ranger' Thrills with Fire Balls and Train Chases
'The Lone Ranger' Footage: Hammer and Depp Cowboy Up 
---
From Our Partners


Stars Pose Naked for 'Allure' (Celebuzz)


Which Game of Thrones Actor Looks Least Like His Character? (Vulture)