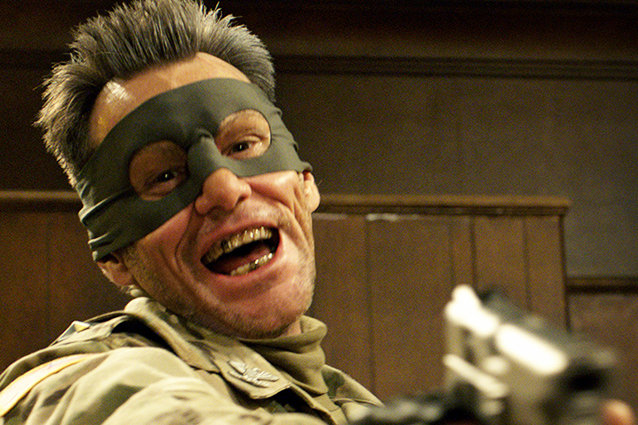 Universal Pictures
There's something to be said for Kick-Ass 2–it's a sequel that does not play it safe. Director Jeff Wadlow chose to fill the second Kick-Ass with even more shocking violence than the first film–dog bites to the groin, murders, and a highly controversial almost-rape. Co-star Jim Carrey raised eyebrows before the film's premiere when he apologized for the completed film's level of violence and publicly distanced himself from the movie.
Most critics are equally outspoken in their views. The New York Times' Manohla Dargis writes that "there isn't anything good to say about Kick-Ass 2, the even more witless, mirthless follow-up to Kick-Ass…[Wadlow's] worst offense is that he has no understanding of the power, gravity and terrible beauty of violent imagery, which means he has no grasp of cinema." Chris Nashawaty of Entertainment Weekly writes "it glamorizes videogame-style bloodshed, never quite finding the line between satire and nihilism."
Some critics, however, expressed their appreciation for the character of Hit-Girl, played by Chloë Moretz, a female superhero in a male-dominated super-world. Writes Entertainment Weekly's Maricela Gonzalez: "Her storyline solidifies her as a progressive, well-rounded character—a female superhero who isn't overtly sexualized but is in control of her own journey to adulthood. It's a shame that there aren't more characters in superhero movies like her."
More:
Chloe Moretz Gets Her Own YA Movie With 'If I Stay'
Ben Affleck Will Play Batman
Review: 'Kick-Ass 2'
---
From Our Partners:


40 Most Revealing See-Through Red Carpet Looks (Vh1)


15 Stars Share Secrets of their Sex Lives (Celebuzz)