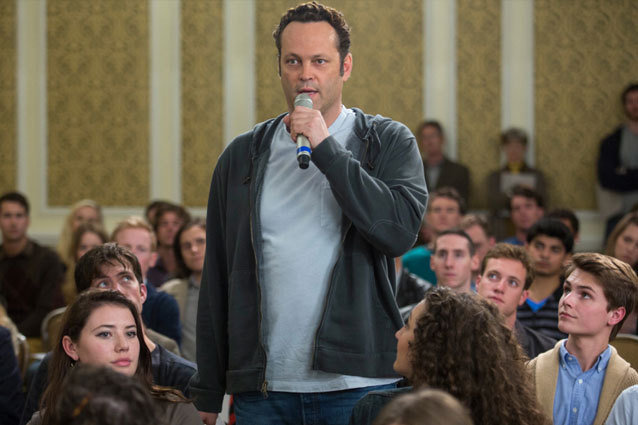 Walt Disney Studios
Delivery Man Takes Manhattan
With the long line of energetic movies to his name, Minnesota native Vince Vaughn has embraced the cities of Los Angeles (Swingers), Washington D.C. (Wedding Crashers), San Diego (Anchorman), and even the North Pole (Fred Claus) for his biggest roles. But somehow, the comedic power player hasn't really gotten much of a chance to take on New York City on the big screen before Delivery Man — the actor's next film, in which he stars as bachelor David Wozniak, who discovers he has more than 500 children courtesy of a sperm donation he made years ago. It's not that Vaughn doesn't have an appreciation for the Big Apple — perhaps, in fact, he was waiting for just the right project to apprehend the spirit of New York, and Ken Scott's dramedy seems to be exactly that. When we paid a visit to the Delivery Man set in midtown Manhattan, Vaughn expressed the necessity of the locale in breathing new life into the director's remake of the 2011 film Starbuck. "[It] was really important for me [to shoot the movie in New York]," Vaughn explained. "One of the reasons I wanted to do the movie was if we shot it here. I felt that this story really lends itself to a place that has a lot of different neighborhoods, a lot of different lifestyles. New York certainly has that."
Smack dab in the middle of the city, the Delivery Man set emanates the sort of character you get from classic entries of New York cinema from the likes of Woody Allen to Sydney Lumet. Walking through the set — taking a gander at Wozniak's Brooklyn apartment and butcher shop, both imbued with the vivid clutter inherent in any true city residence or place of business — one could feel the But Vaughn and director Scott will look to paint every corner of the metropolitan area, using the main character's many children as doorways into the various realms of NYC. "It makes sense that they're very, very different worlds that [David is] entering," Vaughn says, speaking on the character's journey to meet each of his "new" children. "They're completely different worlds. So I think that's a big deal. Then, of course, just visually, the energy of the city is tremendous. It really infects the particulars of our family being from Greenpoint, [which is] culturally where we're located." It makes sense that we find first generation American David Wozniak residing in the heavily Polish community of Greenpoint, Brooklyn, where he works in his father's butcher shop. But of course, the surprise that hits Vaughn's hero at the beginning of the story brings him to unexplored areas of his city: "David's curiosity about the kids to travel to different places that he might not on a day-by-day basis go into."
Director Scott, who filmed the original incarnation of this story in Toronto for the independent Canadian feature Starbuck, also expressed a reverence for the far-reaching majesty of his new movie's setting. "New York really felt like the best place to tell the story, to make it as credible as possible," Scott said. "We meet all these kids, and we have to be very efficient in the storytelling. So, they live in all these different neighborhoods, and New York has all these different neighborhoods. If you see a kid that's living in Chelsea, rapidly you sort of get a feeling of what this kid is about. If he's in the Bronx, it's another thing. So, it's rich visually, but it's also very efficient in storytelling perspective."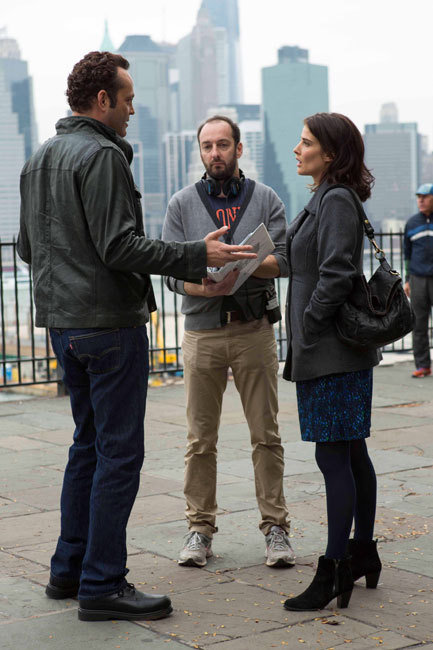 DreamWorks
Vince Vaughn, Father of 533
But it isn't only the rich setting that makes Scott's next picture so enticing — it is the chance to rediscover an endlessly fruitful subject matter: parenthood. Specifically, the journey to become a dad, which David Wozniak takes on five hundred-fold when he discovers his sperm bank's botch distribution of his deposit. Scott describes the sometimes wacky, sometimes somber film as "an exploration of fatherhood and what fatherhood is all about."
The director and the actor, both gifted with children, approached the project with their own perspectives on fatherhood on hand. "I have three kids and I felt that I have a whole lot to say about what fatherhood is all about," Scott said. "I think fatherhood has changed in the last 15 or 10 years. Nowadays, you could hear a father say, 'I want to stay home because my wife just had a baby, and I want to take care of the baby.' You hear that today, [but] 15 years ago that was impossible. It's exciting to be informed with what fatherhood is all about today because it has changed." Scott continues, "I feel that fatherhood is very much like a dramatic comedy. There's some great moments. There's some funny moments. There's some more dramatic moments."
Vaughn, too, injected his own attitudes into the film and his performance, as we saw carry through in a take where he tried to reach out to one of his many new sons. "As a parent, you have a lot of hopes," the actor said, "about your kid being enthusiastic about something that they love to do, having self-respect, being surrounded by good people. And then you have a fear of them getting caught up in stuff that's maybe not as rewarding ... which we all go through [in] phases." Vaughn continues, "I think what's fun about the movie is that through the different kids, because there are so many, you play out all of those anxieties or hopes of this kid's doing well or this kid's really in a bad spot. You start to realize the difference in believing in someone, or feeling like there is going to be a tomorrow, can go a long way for folks that don't feel like they have that messaging in their life."
In the end, the actor has a great deal of appreciation for his character and for director Scott's project: "What I love about the character of David is that he goes in very open to some of the stuff he hasn't seen or experienced before." To Vaughn, the film represents some of the most important elements you can tackle. "I think it's about the family, but I think it's about life, and all of us, in some kind of way. At our best, I think, we like to feel that we're not against each other, and sometimes people are hurting and you need a little bit of support. I like the stuff [the movie] says about being a guardian angel, feeling like things can be different tomorrow for whatever is going on. So I think it takes out a bigger message without being preachy. [It's about] family, but [also] just about human beings and life. It gives you a perspective of what really matters."
Delivery Man hits theaters on Nov. 22.
More on 'Delivery Man':
Vince Vaughn's Sperm Count Is Way Too High
Chris Pratt Thinks Vince Vaughn Is Insane
Follow @Michael Arbeiter | Follow @Hollywood_com
---
From Our Partners:


40 Most Revealing See-Through Red Carpet Looks (Vh1)


15 Stars Share Secrets of their Sex Lives (Celebuzz)