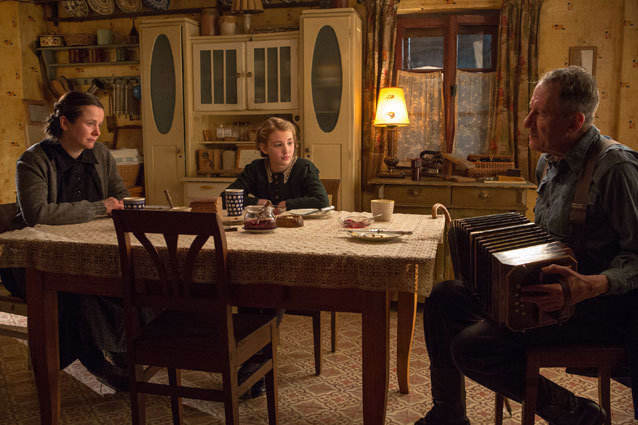 20th Century Fox
Walking down the main street of Molching, you feel much like The Book Thief's young Liesel Meminger (Sophie Nélisse) must shortly after she first arrives at Haus Huberman: overwhelmed, filled with the urge to explore, and, above all, cold. The snow on the ground is fake but you could easily think it's real. It's a morning in early April and the temperature is barely above 40 degrees Fahrenheit, with a biting wind chill. "I wanted the weather of Europe to be like a character in the book," author Marcus Zusak says. He got his wish for the film, too.
Production designer Simon Elliott has created a life-size replica of Liesel's adopted town on the lot of Studio Babelsberg, about 30 minutes west of Berlin, and it's a masterpiece of detail. The fictional tale Markus Zusak has spun about a young girl in Nazi Germany forced to live with foster parents after being separated from her mother has been brought to life with the most loving care imaginable. 1930s-era cars sputter down the street, kids play and hide behind barrels, each of the buildings has a little bit of paint chipping off here and there, and the windows are coated with fog. Even the fake snow is strategically laced with dirt.
Fittingly enough for our own entrance, the scene being shot is of Liesel making her first arrival in Molching when she's so distraught about having to be separated from her mother that she refuses to leave the car. One of her new caretakers, Rosa Huberman, played by Emily Watson (Breaking the Waves, Punch-Drunk Love), is just finding out that she'll only be taking charge of one child after all: Liesel's brother died on the train trip to Molching. It's a tragedy, but for the hard-edged Rosa, it means something else. "She had expected the government allowances for taking in two foster children," Watson says. "Not just one." That seems harsh, but this is a harsh world. It's Nazi Germany in 1939. World War II is about to begin, and the Holocaust is well under way. Rosa's actually a kind woman, but she has a tough demeanor. "I think a lot of ordinary German people faced that moment where they had to ask 'Am I going to do the right thing or am I going to save my own skin?'" Watson says. "I think Rosa's a brave, good person. She just doesn't know how to show it." The honesty in the portrayal of a character like Rosa is refreshing, and indicative of Zusak's vision. There are certainly fanatical Nazis living in Molching, but many others are just trying to keep their heads down and survive.
Shooting in Germany was essential for authenticity, and though the main street of Molching was built on the Studio Babelsberg lot, director Brian Percival shot on location as well. One of the biggest scenes was of a book burning, where Liesel lives up to the title and steals one of the volumes about to be cast into the flames. The team went to the remarkably well-preserved small town of Görlitz near the Polish border to film that scene in its main square — which was to double for Molching. Production designer Simon Elliott, who previously lent grit to the sets of the BBC's acclaimed 2005 Bleak House miniseries, designed the end of the street so that it would appear to adjoin what was shot in Görlitz. "Making a studio set look seamless with location shooting is something I've also had to do quite a bit on Downton Abbey," director Percival says. "In reality, the upstairs scenes and the downstairs scenes on the show aren't shot anywhere near each other."
The cast and crew were taken aback by the effect of transforming Görlitz into the site of a Nazi rally. "You're not prepared for how overwhelming it is to show up on a train platform and see nothing but swastikas lining everything," Watson says. "It's quite a formidable experience." It had a similar effect on Geoffrey Rush (Hans Huberman). "We went to Görlitz for the rally, and the Nazi imagery is terribly overwhelming," the Oscar-winner says. "You could see how the German extras were in turmoil over having, for some of them, to relive a scene like this."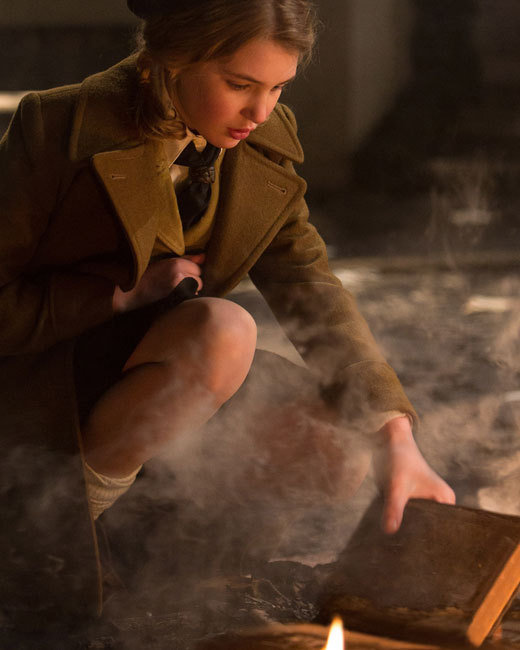 20th Century Fox
Though an epic set piece like the book burning took a great deal of preparation, production designer Elliott put even more time toward getting the intimate details of Haus Huberman just right, even down to the kind of jars stocked in their kitchen. "We had to make the interior spaces big enough for the cameras and lighting," he says, of the house interior, built separately from the village on an adjoining soundstage. "But all of the items within you would have found in an actual 1930s German home." At the bottom is the cellar, or keller if you prefer the German, where Hans Huberman keeps wine, sacks of potatoes, and eventually hides Max (Ben Schnetzer), the son of the Jewish man who fought alongside him in World War I and taught him to play the accordion. There's also the chalk outlines of words Hans and Max are teaching Liesel, as they begin the process of teaching her how to read, one of the many dramatic highlights of the book.
To bring the world of The Book Thief to life research was key. Oscar-winning costume designer Anna B. Sheppard closely examined thousands of photos from the period to get the look of German civilians — and kids — just right. "I guess I've become a go-to costume designer for anything having to do with World War II, but my experience on each one of these movies has been so different," Sheppard says, before rattling off her incredible filmography. "Steven Spielberg had already spoken to so many Holocaust survivors by the time I started Schindler's List, while Roman Polanski could tell me exactly what was right and wrong about any of my designs since he had actually lived through many of the events of The Pianist. Quentin Tarantino had me watch old movies to get ready for Inglourious Basterds. And Captain America: The First Avenger was going for something even more different, still." Sheppard hasn't had to go very far to shoot those other films — all of them shot scenes at Studio Babelsberg, where there's even a street called "Quentin Tarantino-strasse."
If you hadn't already realized it, The Book Thief has assembled pretty much a dream team of behind-the-scenes talent to translate Zusak's novel to celluloid. Even since our visit John Williams has signed on to compose the film's score. It's why 20th Century Fox was so happy with what they were seeing that they pushed its release date up from January 2014 to November 15, right smack in the heart of Oscar season. And it's shaping up to be a major contender. Sure, the Academy loves to recognize films adapted from acclaimed novels about defining moments in history starring previously nominated thesps like Rush and Watson. But it's the passion for the material you sense in every person on set that may really make its chances golden. Film sets can often be jaded places. Not here. "At all times you're aware of the bigger history here," Rush says. "Even on top of the events we're depicting, we're at Studio Babelsberg. My God, this is where Murnau and von Sternberg and Pabst and Billy Wilder and Lubitsch all filmed."
Zusak had never been on a film set before when we caught up with him on Molching's main street. You could sense his wonder at seeing his creation made real. The bigger test, though, may be what his parents ultimately think. "My dad doesn't give a compliment without making you feel bad," he says. "He said after he read both the English and German versions, 'It's not so much that the book is s**t in English, it's that it's so much better in German.' Thanks, Dad. The German translator is just a much better writer than I am, I guess." We doubt if even he will be able to quibble when he sees The Book Thief on the big screen.
More:
'The Book Thief': Watch the Emotional Trailer for Geoffrey Rush's Likely Oscar Contender
'Downton Abbey' Director Takes on 'The Book Thief'
'The Counselor' Trailer Asks Us All: Have We Been Bad?
---
From Our Partners:


A Complete History Of Twerking (1993-2013) (Vh1)


15 Stars Share Secrets of their Sex Lives (Celebuzz)