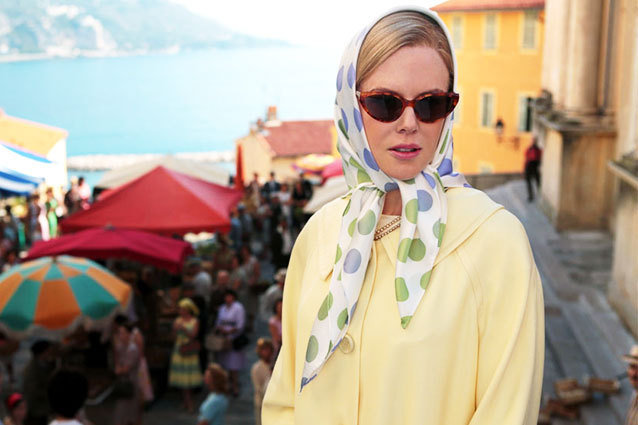 The Weinstein Company
Folks, it doesn't look like Grace of Monaco is quite Oscar-worthy material... or at least that's what we can take away from The Weinstein Company's decision to push its Grace Kelly biopic to Spring 2014. According to The Hollywood Reporter, the Olivier Dahan-directed (La Vie en Rose) film will not be released in time to qualify for this year's Oscar race because TWC believes that it needs more time to be completed.
The film, which chronicles six months of Kelly's life after retiring from Hollywood and transitioning to a life with Monaco's Prince Rainier, was originally set to be released Nov. 27, a date ideal for Oscar season. It was rumored that Nicole Kidman's performance as Kelly in the biopic would place her in line for a possible Oscar for the Lead Actress category, but it seems like TWC might be nervous about the caliber of the film and its Oscar competition. Had the Weinsteins decided to release the film this fall, Kidman would have most likely gone up against other lead actress contenders such as Judi Dench (for Philomena), Meryl Streep (for August: Osage County), Cate Blanchett (for Blue Jasmine), Emma Thompson (for Saving Mr. Banks), and Sandra Bullock (for Gravity). A tough battle, to say the least.
The move to bump Grace of Monaco to Spring 2014 will position it as more of a commercial entry than an awards play: another sign that the film is relatively weak compared to other films coming out this fall. Until some unknown time in the spring, speculators of the film will just have to rely on the opinions of HitFix Awards Campaign editor Gregory Ellwood, who viewed some of scenes of the film at the Cannes Film Festival: "This sneak didn't convince anyone in the room that 'Grace' is anything more than a Kidman showcase (not yet, at least). Although, it certainly does look pretty. Is it a hit? That remains to be seen."

More:
Nicole Kidman Plays Princess in 'Grace of Monaco' -- Pics
Nicole Kidman Saves a Nation by Being Beautiful in 'Grace of Monaco' Trailer
Too Far, Paparazzi: Nicole Kidman Hit by Bicycle in New York
Follow @CaseyRackham
Follow @hollywood_com
---
From Our Partners:


A Complete History Of Twerking (1993-2013) (Vh1)


15 Stars Share Secrets of their Sex Lives (Celebuzz)