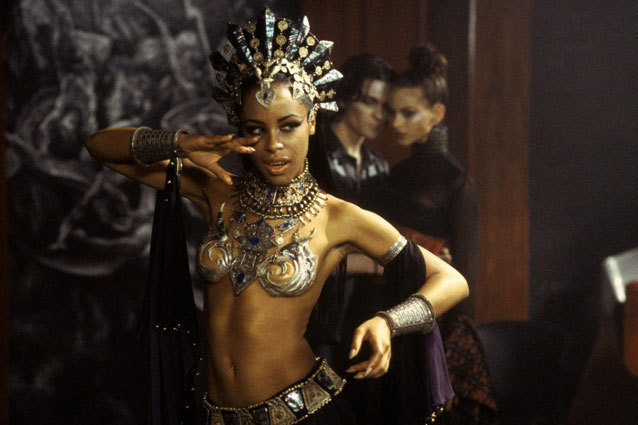 Warner Bros.
They rule the night, they know how to party, people part in their paths, and they dress like vamps. All Hail, the Queens of the Night.
Parker Posey in Blade Trinity
Sexy, for sure, in a Lower Manhattan kind of way. But she's all kinds of crazy, and where I come from, that level of sick demands a little worship.
Monica Bellucci in Dracula
Monica Bellucci is gorgeous in her tiny role as Dracula's bride in Francis Ford Coppola's 1992 remake of the classic vamp thriller. The visuals make up for it, but there is one thing missing. Her voice, her molten voice. 
Evan Rachel Wood in True Blood
She's beautiful, but that's not what she's so blazing. It's power, pure power, coming out of every pore of that super-pale skin.
Aaliyah in Queen of the Damned
Her leer is super-weird, almost borderline-creepy, and her accent is hilariously unsexy. But admit it: she's a scorcher, and fangs look a-mazing on her.
Lucy Liu in Rise: Blood Hunter
It's not just that she's smokin', dead or alive. It's that she proves that revenge is equally as delicious served cold or hot.
More:
To Be Or Not to Be When Do I Turn
Queen of the Damned
The Vampire Syllabus: You Can't Matriculate Without Seeing 'Near Dark'
---
From Our Partners:


40 Most Revealing See-Through Red Carpet Looks (Vh1)


15 Stars Share Secrets of their Sex Lives (Celebuzz)