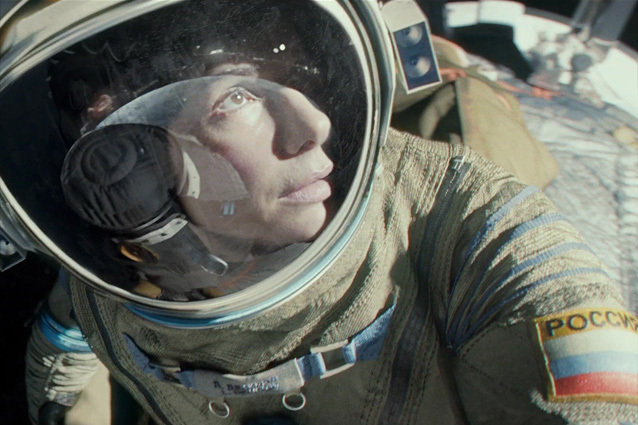 Warner Bros. Pictures
It seems that every entertainment journalist had the same idea–ask real life astronauts what they thought about Gravity. From small-town heroes to space celebs, it seems that every astronaut who has so much as simulated space travel has seen the movie, and they're being vocal about their opinions. While most pointed out errors, the majority were able to suspend disbelief and enjoy the ride. The movie stars George Clooney and Sandra Bullock, and it's received a lot of buzz for its stunning portrayal of space. For your convenience, here's a collection of the best quotes from astronauts. 
Buzz Aldrin, the second man on the moon, did a review for The Hollywood Reporter. 
"I was so extravagantly impressed by the portrayal of the reality of zero gravity...We were probably not as lighthearted as Clooney and Sandra Bullock."
CNN interviewed astronaut Michael Massimino, who has been in space twice and was the inspiration for Clooney's character. 
"I was really excited when I saw the accuracy of my telescope, payload bay, and tools. I wasn't really looking at Sandra Bullock at all. Sorry. I recognized my wire cutter." 

Six-time space-walker Leroy Chiao wrote a review for SPACE.com.
"Let me start by saying that "Gravity," as most of us in the business expected, is full of big inaccuracies, starting with Sandra Bullock and George Clooney, who are way too good-looking to be astronauts. I enjoyed the film, but if viewers will set aside, for 90 minutes, the big technical and operational inaccuracies (of which there are many), they will be entertained."
Vulture spoke to Scott Parazynski, an experienced astronaut with many space walks under his belt.
"I got a little homesick for being in space, actually!...It's the greatest job in the universe."

Astronaut Sherwan Spring was interviewed by U-T San Diego.
"You wouldn't want to show it to a physics class because of some of the inaccuracies. But I can see where the movie could become a cult classic."
Marsha Ivins, who has spent around 55 days in space, wrote a mostly negative review for TIME.
"Watching Gravity, I found myself cycling between appreciation and cringing, almost in time with the action."

Scientific American talked to the inspiration behind Bullock's character, astronaut Cady Coleman.
"I really felt that it brought people to space in both an emotional and a physical way."