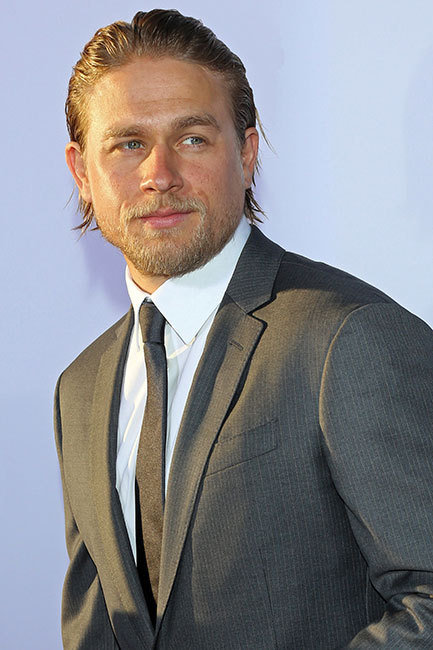 FayesVision/WENN
Recently, Charlie Hunnam backed out of the film adaptation of 50 Shades of Grey and it seems like there are two camps about it: those who think it was a smart move on his part and those that think he shot himself in the foot.
Hunnam is riding a wave of some popularity - he was one of the main stars in this summer's high-tech movie Pacific Rim and Sons of Anarchy is back on the air for its sixth season. He's in the limelight and is considered one of the up-and-coming young actors. While he claimed it was the workload of his TV schedule that caused it, some speculate that he was worried about the amount of sexuality in the movie - including some possible full frontal. That's kind of odd, because he skirts that line nearly every episode of Anarchy with some very naughty scenes.
The British-born actor, while happy to be famous to some degree, might have been very wary about being put under the magnifying glass like Robert Pattinson was for his work on Twilight. He would possibly be typecast... though how he could go from being solely known as badass biker Jackson Teller to this would be a bit of a leap. Especially since there is a very good chance Pacific Rim 2 will be made. He would still have a lot more options that Pattinson did - and having to appear a lot less sparkly.
The other line of thought is that this movie could damage someone who has already an established amount of credibility and would be better for actors who are hungry and ready for exposure (literally). It's one thing to doff your clothes on the small screen, it's entirely another to be in your birthday clothes on a giant screen in a movie theater. Hunnam might have worried about living that one down.
This could be a truly enduring movie, though, since it is based on such a huge bestseller and Hunnam could have been one of the world's biggest names out there had he gone through with the movie. Then again, just by putting his name out there and being initially cast, that's a lot of recognition right there. His name made the tabloids not once but twice,  and he can now ignore the people who signed Internet petitions for him to be jettisoned. 
However this all turns out, I have a feeling that Hunnam is going to come out on top. So to speak.