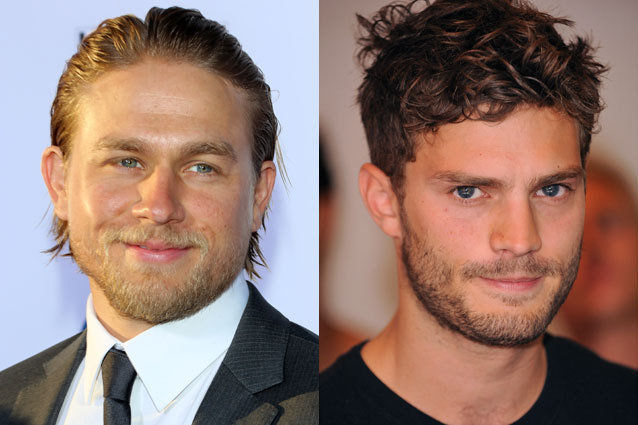 WENN / Getty
Once again, we have our Christian Grey. Two week ago, Charlie Hunnam abruptly exited the Fifty Shades of Grey film and left producers scrambling to replace him in order to start shooting in November. After announcing that the film was to be released Aug. 1, 2014, the production seemed plagued with delays, including rumors of a bad script as well as uninterested actors. However, everything seemed to fall into place when Hunnam and Dakota Johnson were cast. At first, there were mass protests over the casting choices, but eventually book fans began to tacitly accept a world in which Hunnam and Johnson would play Christian Grey and Anastasia Steele. However, the departure of Hunnam forced producers (who had originally taken their time to find the right actors) into hastily recasting the role. Now that it looks like Jamie Dornan is closing in on a deal, we're breaking down who would have made the better Christian Grey. 
The Talent:
When Hunnam was cast, a few of us immediately jumped on the "I Love Charlie" bandwagon. We started rewatching his hit show Sons of Anarchy and basically stalked his films to make sure he had the acting chops to play Christian Grey. Say what you will about Hunnam, but he's definitely exhibited some chops. Keeping this in mind, we have confidence that Hunnam could pull off the controversial role in a way that would make him the toast of Hollywood, rather than being the embarrassing mistake to end his career. 
Dornan, on the other hand, is a relative unknown and, in my opinion, probably not as great of an actor as Hunnam. A previous model, Dornan has had small parts on ABC's Once Upon a Time and the 2006 adaption of Marie Antoinette, but he hasn't starred in any large studio productions. Hopefully, Dornan has some hidden acting chops that he will whip out (pun intended) for Fifty Shades but, if he doesn't, this could be a serious issue for fans, and a possible quick end to the film franchise.  
Winner: Charlie Hunnam
The Looks:
While Charlie Hunnam is no doubt a hottie, he doesn't exactly fit the description of Grey, who was written as having messy dark copper hair and gray eyes. In Hunnam's defense, these aspects of his appearance could have easily been changed, because the rest of him — from his bod to his height — fit Christian to a T. 
Jamie Dornan, however, naturally looks more like Grey with his dark curly hair and gray eyes (and I didn't even know it was possible to have gray eyes). Oh, and he also has a pretty nice body... he was a Calvin Klein model, so there's no arguing that. 
Winner: Jamie Dornan
The Chemistry: 
Hunnam famously discussed his chemistry with Johnson, saying, "As soon as we got in the room and I started reading with Dakota I knew that I definitely wanted to do it. There's just like a tangible chemistry between us. It felt exciting and fun and weird and compelling." This quote immediately went viral and got audiences excited to see these two actors bring these roles to life, especially when the chemistry, which is so important in the book, would be visible on screen. 
Although I'm sure Dornan also has some chemistry with Johnson, no one has labeled it 'tangible' yet so I'm not convinced. Hopefully, the couple will prove me wrong, but it seems that, since Grey had to be recast so quickly, that there is no way the producers were worried about a pesky little thing like chemistry. 
Winner: Charlie Hunnam  
On behalf of the rest of those underwhelmed by Hunnam's replacement, we really do hope that the Dornan can step into the Christian Grey shoes and pull it off convincingly. Otherwise, fans will hate him forever and never see another one of his movies... or is that just me?
What do you guys think? Can Jamie Dornan pull off the role, or is this just a film that's destined fail?