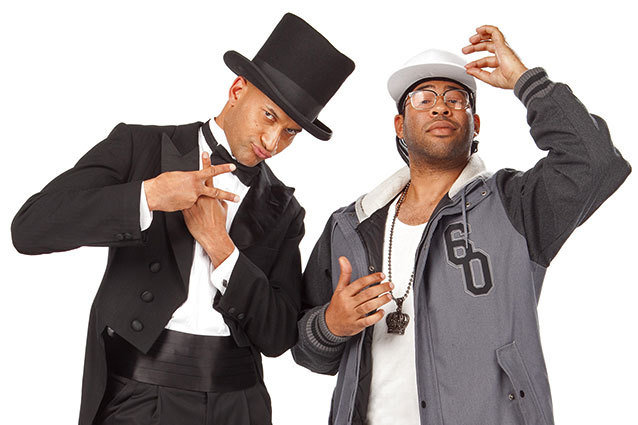 Matt Hoyle/Comedy Central
Move over, Seth Rogen and James Franco; Judd Apatow has found himself a new dream team. Keegan-Michael Key and Jordan Peele have partnered with the writer/director/producer to develop a script for a feature film. The duo will star in the film and write the script alongside Apatow, who will also produce the project. No details about the film have been made available yet, but Apatow did reveal that he holds his new collaborators in high esteem, telling Deadline, "I love these guys because they are riotously, make-you-sick-because-you-can't-stop-laughing, funny. I think Key and Peele are capable of making the movie that America desperately needs right now." 
This is the second development deal that Apatow has made with a current Comedy Central star; he recently signed on to produce a script that was written by and will star Amy Shumer. Key and Peele's self-titled sketch show, meanwhile, has enjoyed a great deal of success and their first episode broke a network record for the biggest series launch. It was recently renewed for a fourth season, due in part to the audience members the show gained after several of their sketches went viral. The film will mark a change of pace for the pair, who, since breaking out on MadTV, have specialized in sketches. They will face the challenge of ensuring that their comedy is still as hilarious and thought-provoking in a longer format as it is in five-minute increments. 
Since Apatow is keeping the log line of the film quiet for now, fans have begun speculating about whether any of the pair's famous characters will make an appearance on the big screen. While it might be hard to incorporate characters like President Obama's anger translator, Luther or Wendell, who only interacts with other people through phone calls to customer service hotlines, it will probably be easier for the film to feature a cameo from the pop-culture commentating valets or football players Hingle McCringleberry or Eqqsquizitine Buble-Schwinslow. 
Regardless, fans can probaly expect Vandaveon and Mike to commentate on the film, just like they do after every episode of Key and Peele. You can catch the show Wednesday nights at 10:30, or check out their East/West College Bowl sketch below. 
Follow @hollywood_com
Follow @julesemm