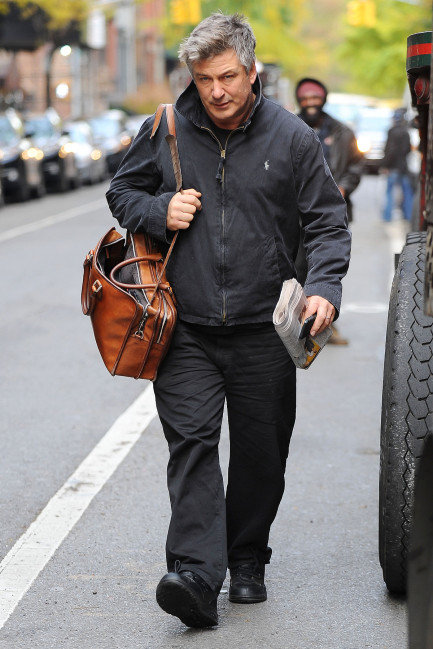 Splash News

Alec Baldwin's recent career could be mistaken for one extremely long audition for the role of The Incredible Hulk. Only last week, his weekly MSNBC show was suspended for two episodes after he was filmed using a homophobic slur against a photographer during a New York street encounter. But it's not just photographers who don't like him when he's angry. Everyone from his eleven-year-old daughter to American Airlines flight attendants have felt the wrath of the Thomas & The Magic Railroad star for next to nothing over the past few years. Here's a more in-depth look at five of his victims.

Ireland Baldwin

Baldwin's most astonishing rant was directed towards his then eleven-year-old daughter Ireland in 2007 after she missed a pre-arranged phone call. Foregoing any chances of a "Father of the Year" award, the raging actor repeatedly called her a 'rude little pig' while also taking a pot shot at her mother, Kim Basinger, who later denied getting her revenge by leaking the voicemail to the press.

Jay From Starbucks

A poor unfortunate barista named Jay had the misfortune to catch Baldwin on one of his many off days when he apparently failed to treat the star with the utmost worship, resulting in a very personal and public review on his favourite platform for abuse, Twitter: "Starbucks on 93 and B'Way. Uptight Queen barista named JAY has an attitude problem."

American Airlines Flight Attendants

Unable to tear himself away from the importance of playing Words With Friends, Baldwin was kicked off an American Airlines flight in 2011 after he refused to turn off his smart phone. Despite inconveniencing hundreds of his fellow travellers, the word game addict still believed he was the wronged party and subsequently launched into a misogynistic rant on where else but Twitter.

The New York Post

After claiming that the New York Post's Gary Miller had assaulted him outside his home earlier this year, Baldwin was then accused of hurling a string of racial slurs at the photographer. When asked about the allegations by one of the newspaper's reporters, a charming Baldwin then replied, "I want you to choke to death."

Daily Mail Journalist George Stark

Certainly not the first celebrity to take issue with a story printed on the venomous Daily Mail website, Baldwin perhaps understandably took umbrage with journalist George Stark following the claim that his wife Hilaria had been tweeting during James Gandolfini's funeral. Less understandable is the vicious and vile way he chose to respond, describing the hack as "a toxic little queen" while also threatening to "put his foot up his f****ng ass."