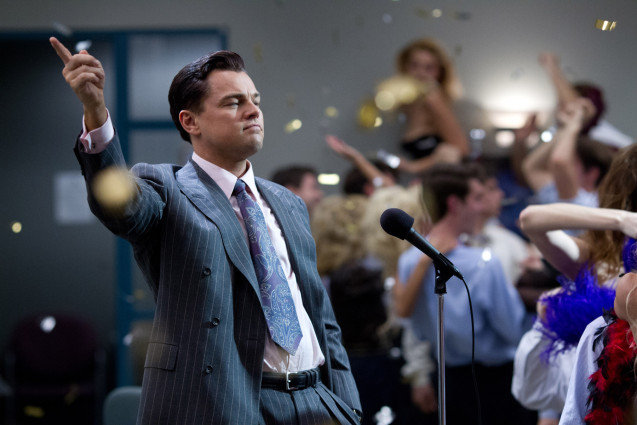 Paramount
There's been a lot of buzz surrounding Martin Scorsese's upcoming film, The Wolf of Wall Street. We've seen drama over the release date, rumors about the rating, and the trailer has reignited hopes and campaigns to earn Leonardo DiCaprio his first Oscar. But while we don't know much about DiCaprio's upcoming performance, we do know that he will have a lot of screentime to prove how much he deserves it. According to new reports from Allocine (via The Playlist), The Wolf of Wall Street will have a running time of 2 hours and 59 minutes, making it Scorsese's longest feature film to date. That honor used to belong to Casino, which runs 2 hours and 58 minutes. 
In celebration of Scorsese's longest-running film to date, we've decided to round up 10 other Scorsese superlatives, from his highest-grossing film to his most award-winning to his first ever collaboration with DiCaprio. 
Shortest Film - Boxcar Bertha 
With a runtime of only 88 minutes, this 1972 film is Scorsese's shortest feature film. It's also his worst-reviewed film, and boasts a Rotten Tomatoes score of 45%. 
Highest Grossing Film - Shutter Island
The 2010 film made over $293 million worldwide, a feat which none of his following films has managed to top. 
Biggest Opening Weekend - Shutter Island
The film made over $40 million in its opening weekend, which is still the biggest opening weekend any of Scorsese's films have had. Until Inception was released later in 2010, this was also the biggest opening weekend for any of DiCaprio's films. 
Most Expensive Film - Hugo
With an estimated budget of $170 million, Hugo is the most expensive film in Scorsese's filmography. It's also the first of his films to be shot entirely in digital, and his first 3D film. 
Most Cursing - Goodfellas 
The f-word is used 296 times, mostly by Joe Pesci's character, Tommy DeVito. The runner-up, The Departed, only uses the word 237 times, but holds the record as the Best Picture winner with the most appearances of the f-word. 
Highest Body Count - The Departed 
With over twice as many dead characters as Goodfellas, The Departed is the most violent of Scorsese's films, boasting a body count of 22 characters. Despite the fact that many main characters are included in that total, a sequel is rumored to be in development. 
Most Award Winning - The Aviator
The film has won a total 12 awards: five Oscars, including Best Supporting Actress for Cate Blanchett and Best Editing for Scorsese's longtime collaborator Thelma Schoonmaker; four BAFTAs, including Best Film; and three Golden Globes, including Best Actor for DiCaprio. 
First Film With Leonardo DiCaprio - Gangs of New York 
The 2002 film kicked off a long-lasting partnership between the director and DiCaprio, who have made a total of five films together. 
First Film With Robert De Niro - Mean Streets 
Scorsese cast DeNiro in this 1973 film after he and De Niro became friends in the early '70s. They have since made a total of eight films together, and DeNiro has been in more Scorsese films than any other actor. 
First Emmy Award - 2011 for Boardwalk Empire
Five years after earning his first Oscar for directing The Departed, Scorsese earned an Emmy for his work on the series premiere of Boardwalk Empire, which cost $18 million to make. 
Follow @hollywood_com
Follow @julesemm