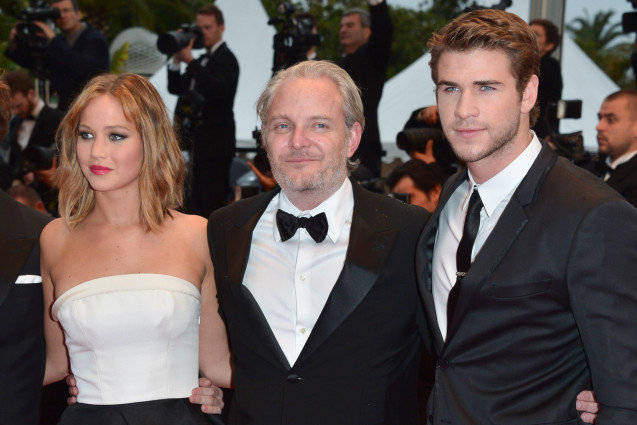 George Pimentel/Getty
Everyone seems to agree that the movie The Hunger Games: Catching Fire is superior to its predecessor. This is in part due to Suzanne Collins' excellent source material, but it also owes something to its new director, Francis Lawrence. Lawrence, who also directed the Will Smith hit I Am Legend, participated in a Reddit AMA this week. Here are his most interesting answers.
The hardest scene to shoot: 
"Anything around the water in the Arena was probably the most difficult to shoot because we shot a lot of that in Atlanta at a water park and it was nearing winter and very cold, and the water was 40 degrees, and so the actors had to spend some time in the water and it was very brutal. Just working around water is tough to begin with. It was supposed to be a tropical setting and there would be some mornings when we'd show up to work and there would be frost covering the set."
On Hunger Games bloopers: 
"Jen is always after me for a blooper reel. There would be a lot of funny stuff that would happen before "Action" and after Cut, Jen would always be falling...She is still mad at me that the editors never put together a blooper reel for Catching Fire, but we could probably have a good one for Mockingjay, and we've only been shooting for five weeks."
His favorite part of the book Catching Fire: 
"Again I've always been attracted to the first stop on the Victory tour. I think that's where the story really kicks into another gear and you start to understand that the stakes are far greater than just Katniss's." 
On Jennifer Lawrence: 
"Jen is awesome. She truly is. She's a great girl, she's really fun, she's really funny, she's very down to earth, she's super-humble and extremely talented and I work with her more than anybody on set because she works pretty much every day, and she never ceases to surprise me with her performance and her choices but never takes herself seriously and she's very endearing because of it."
On sequels: 
"The decision to take on a sequel was probably the thing I had to think about the most. I had never taken on a sequel or taken on an episode of television where I did not create the pilot. So I knew there would be certain parameters I would need to exist within. So I re-read the book, and very quickly saw that there was going to be plenty of room for me to grow, and although I was going to stick to certain aesthetic choices Gary had made so the world would feel the same, I felt that Catching Fire offered me a lot of opportunities to grow and to create and to world-build. So I found it quite easy to take on this sequel. I inherited an unbelievable cast. I got to add a bunch of new amazing actors to the mix. I got to build a brand-new arena. I got to create new portions of the Capitol, New Districts, see District 12 in a brand-new way and especially see the characters themselves grow and change."
On the biggest challenge in filming Mockingjay: 
"It's a tough story emotionally for Katniss, whereas the first two films have been far more straightforward in terms of Katniss' emotional arc, tracking her emotional trajectory is my greatest challenge."
On Finnick: 
"We will definitely get a sense of Finnick's backstory in Mockingjay, I just don't want to divulge how, but there are very specific scenes where we learn about his past."
On filming emotions: 
"Wow, how did I get emotion is a pretty tricky question. I think that I personally felt emotional towards the subject material. I emotionally connect to the characters in the movie and the situations they become involved in, so instinctually I shoot them in ways that make me feel the way I do when I read the story. It's hard to break an emotional scene down technically. But I will say that I think most of it has to do with the investment that one has with the characters, especially Katniss, and allowing time to sit and be with them as people while they're onscreen."
On the final scene: 
"The scene at the end of the film is straight out of the book, and was scripted (dialogue included) pretty much straight out of the book (maybe one additional line), and Katniss' response at the end of the scene was to break down in the book. And partway through shooting the scene, I caught a glimpse of Jen doing something different. I saw that she started to break down, and then shifted into anger, and defiance, and I liked it, I thought it was better, and I then came up with the idea of the final shot looking straight down with her look nearly into the lens for the final moment. So the ending beat of the film was a circumstance of happy, on-set accidents."