George Clooney and Matt Damon have a certain ease with each other that makes any film project they're in look like fun rather than work. Hell, the duo made three Ocean's movies as the world's most elaborate excuse for a vacation with all your acting friends. So, in a world where Ocean's 14 thankfully doesn't exist, we have The Monuments Men, which acts as if someone put a mini-Ocean's 11 reunion in a time machine and sent it back to World War II. (Brad Pitt was accidentally sent to a 19th century slavery plantation. Bad luck Brad.)
Based on a true story, The Monuments Men follows a rag tag group of would-be soldiers are tasked with infiltrating a warring Germany and rescuing pieces of art stolen by the Nazi war machine, and returning them to their original owners, but stealing back stolen art won't be easy for this group of museum curators and historians since the Nazis are ordered to destroy the art should the Third Reich fall, and spoiler alert, it does.
With a cast that sweeps up as many aging stalwarts of Hollywood as it can, The Monuments Men takes the form of a more prestigious version of The Expendables, replacing Sly Stallone and his muscular cohorts for dramatic actors with a higher pedigree. Clooney and company won't be doing anything as visceral as trying to sink a knife into Jean-Claude Van Damme, but trying to save endangered cultural artifacts from German flame throwers is probably more noble task.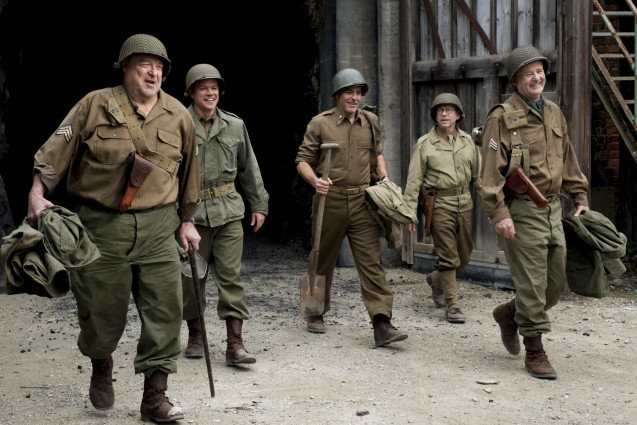 Columbia Pictures
This newest trailer makes the film feel decidedly more like a jaunty caper than a war film, with a bunch of old men doddering around the dark corners of Hitler's Germany and stealing art right under the noses of a couple of snarling Nazis. Rather than being a sobering film about war, it actually looks like a load of fun, or about as fun as a movie involving World War II can look.
Follow @Hollywood_com
Follow @CurrentlyJordan