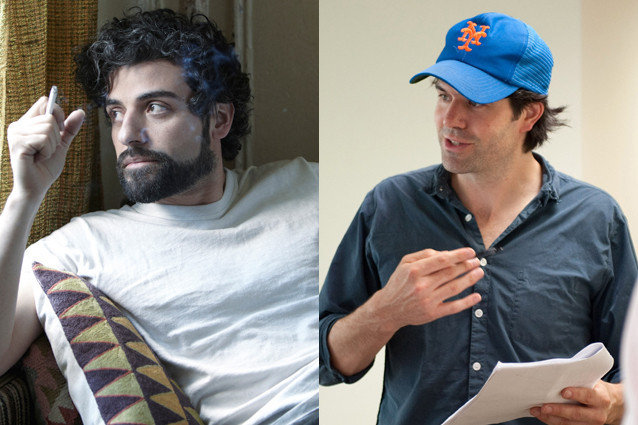 Say hello to Oscar Isaac because he's here to stay. The Inside Llewyn Davis star is set to replace Javier Bardem in writer-director J.C. Chandor's A Most Violent Year, according to The Hollywood Reporter. The director confirmed the news at Monday night's Gotham Awards.
The film is a period piece set in 1981 – which Chandor describes as "one of the most violent years on record" – and follows a Hispanic man who immigrates to America and becomes an extremely successful businessman.
After taking a few steps toward stardom in his busy 2011 – Isaac starred alongside Ryan Gosling in Drive, as well as with Channing Tatum in 10 Years and Madonna on the historical drama W.E. (but you didn't see those) – and receiving favorable reviews from critics for his performance in the recent Coen Brothers' Inside Llewyn Davis, signing on to Violent might be the final credential Isaac needs to secure a name for himself in the acting world. Not only is the film helmed by Chandor, who has most recently been pushing his film All Is Lost during this year's Oscar season, but two-time Oscar nominee Jessica Chastain has already committed to playing the female lead and Stanley Tucci has been rumored to take on a supporting role. Not to mention that the male lead role was previously slotted for the well-known Bardem before he dropped out due to "disagreements about the direction of the script," according to THR. To say the least, Isaac has most definitely surrounded himself with the right kind of people to advance his career.
Additionally, Violent and Inside Llewyn Davis aren't the only movies helping to push his name out there. Isaac is set to star in four upcoming indie films: Mojave, In Secret, Ex Machina, and The Two Faces of January. And with such a busy schedule, and his ever-rising fame, it's no wonder that Isaac was willing (and able) to turn down a role in Ridley Scott's Exodus. And when you're able to turn down a role, you've either made it, or, well... you're just dumb. We guess we'll find out soon enough if Isaac is the former or the latter. (Although, we hope, and assume, it will be the former).
A Most Violent Year is set to begin filming in January 2014.
Follow @CaseyRackham
Follow @hollywood_com