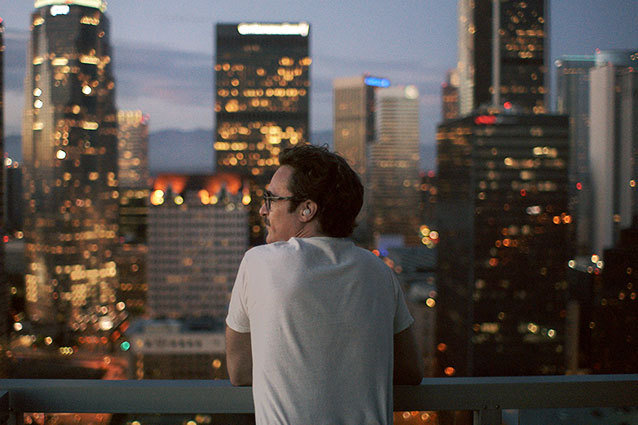 Rick Howard Company/Warner Bros
The Gotham Awards went for quiet talent and the New York Film Critics Circle solidified some Oscar front-runners, but the National Board of Review decided to spread the love around when it came to determining their picks for the best films and performances of the year. The top prize, Best Film, went to Her; director Spike Jonze took home the award for Best Director as well. Meanwhile, Nebraska picked up awards for both Bruce Dern and Will Forte as Best Actor and Best Supporting Actor, respectively, Emma Thompson won Best Actress for her performance in Saving Mr. Banks, and Octavia Spencer beat out current front-runner Jennifer Lawrence to win Best Supporting Actress for Frutivale Station. Surprisingly, American Hustle received no accolades at all from the National Board of Review, and 12 Years A Slave's sole appearance was on the organization's list of the Top 10 films of 2013. 
It seems like Her might be solidifying its position as competition for American Hustle and 12 Years a Slave in the Oscar race, along with Nebraska becoming a solid contender for some acting awards. However, there's still no definite sign as to what will happen when it comes time for the Academy to judge the films — after all, last year's big National Board of Review winner was Zero Dark Thirty, which won for Best Film, Director and Actress, but came up empty in all three categories on Oscar night. 
Check out more of the National Board of Review Award winners below, including:
Best Film
Her
Best Director
Spike Jonze, Her
Best Actor  
Bruce Dern, Nebraska
Best Actress
Emma Thompson, Saving Mr. Banks
Best Supporting Actor
Will Forte, Nebraska
Best Supporting Actress
Octavia Spencer, Fruitvale Station
Best Original Screenplay
Joel and Ethan Coen, Inside Llewyn Davis
Best Adapted Screenplay
Terence Winter, The Wolf of Wall Street
Best Animated Feature
The Wind Rises
Breakthrough Performance
Michael B. Jordan, Fruitvale Station  and  Adele Exarchopoulos, Blue Is the Warmest Color
Best Directorial Debut
Ryan Coogler, Fruitvale Station
Best Foreign Language Film
The Past
Best Documentary
Stories We Tell
Best Ensemble
Prisoners
Spotlight Award
Career Collaboration of Martin Scorsese and Leonardo DiCaprio
NBR Freedom of Expression Award
Wadjda
Creative Innovation in Filmmaking Award
Gravity
Top Films (Alphabetically)
12 Years a Slave
Fruitvale Station
Gravity
Inside Llewyn Davis
Nebraska
Prisoners
Saving Mr. Banks
The Secret Life of Walter Mitty
The Wolf of Wall Street


Follow @hollywood_com
Follow @julesemm