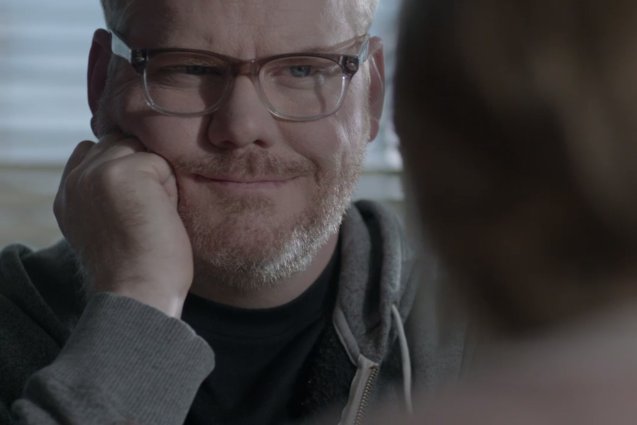 Short of the Week/Vimeo
It's always good to be able to laugh at yourself, and thanks to Shia LaBeouf's short film HowardCantour.com, online movie critics everywhere have the chance to do just that. 
The 12-minute short, which originally screened earlier this year at the Cannes Critics' Week, follows the online film critic Howard Cantour (played by comedian Jim Gaffigan) who is faced with writing a review of the latest work by a director that he has idolized for decades. Cantour also goes up against some verbal and psychological abuse from two other critics/competitors/snobs (played by Thomas Lennon and Portia Doubleday). From free cookies at press junkets, to the behind-the-scenes politics that goes into deciding who gets to interview who, to the relationships between fellow critics, LaBeouf creates a sardonic and (relatively) on-point image of critics through the lens of an outsider. As Gaffigan's character so courageously says, "A critic is a warrior. Each one of us on the battlefield have the means to glorify or demolish."
In an interview with Short of the Week, LaBeouf explained his inspiration for making the short: "I know something about the gulf between critical acclaim and blockbuster business. I have been crushed by critics (especially during my Transformers run), and in trying to come to terms with my feelings about critics, I needed to understand them. As I tried to empathize with the sort of man who might earn a living taking potshots at me and the people I've worked with, a small script developed."
Well, thanks to LaBeouf, the criticism has come full circle with the criticizee criticizing the critic. Did you get that? Good. (Oh, and in case you're wondering, yes, I am definitely laughing.)
Check out the actor-turned-director's cinematic jab at online reviewers below:
Follow @CaseyRackham
Follow @hollywood_com