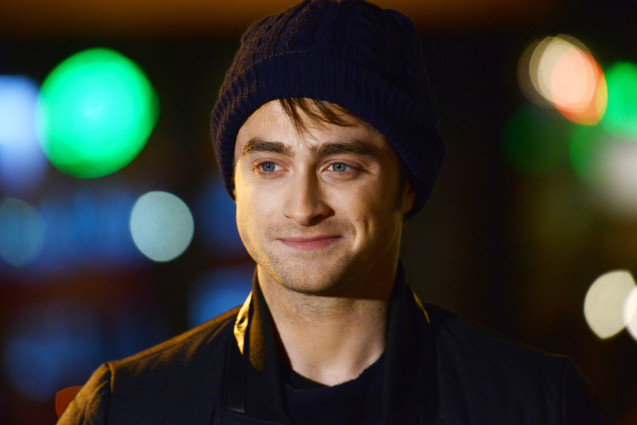 Getty/Dave J Hogan
Everyone's favorite boy wizard has chosen his latest trick: making the Brooklyn Bridge appear. Daniel Radcliffe has signed on to the film Brooklyn Bridge, where he will play Washington Roebling, the architect who took over the project after his father, the original head of the project, passed away. According to the film's description, Washington's obsession with his works threatens to destroy both his health and his family life, until his wife intervenes and helps guide him and the project back from the brink. The film, which will be directed by Douglas McGrath, is the latest in a long line of upcoming projects for Radcliffe, including the release of his films The F Word and Horns, and a limited Broadway run in the play The Cripple of Inishmaan.
However, when compared to his other projects, Brooklyn Bridge doesn't have the same appal as say, an black comedy set in 1930s Ireland or a thriller about a guy who grows horns on his forehead after his girlfriend dies, or even a charming romantic comedy about friends falling in love. In fact, it sounds pretty boring, if we're honest. Luckily for Radcliffe, we'll see him in anything he does, no matter how boring it sounds. To prove our dedication, we've come up with five incredibly boring films that we'd still sit through, just to watch him act. 
Daniel Radcliffe Explains Cricket
Despite the fact that there is no sport in this world more boring or more confusing than cricket, it's one of Radcliffe's favorites. In this instructional video, he explains the rules and regulations of the game, as well as the history of the sport, important player information and statistics, before commentating a two-day cricket match. 
The Accountant
Radcliffe plays an accountant tasked with figuring out the tax returns of all of his clients before the April 15 deadline passes. A realistic indie film that passes over explosions and mafia threats in favor of Radcliffe alone at his desk, armed with nothing but a calculator and a pencil, working through pages and pages of tax returns. Rated PG for mild language. 
A Room With a View and a Staircase and a Pond
Inspired by Eddie Izzard's stand up routine, but lacking all of the humor and self-awareness, Radcliffe plays a young lawyer from the 1910s spending the weekend at the country home of a rich family. Features stunning shots of the English countryside, longing looks between Radcliffe's character and the eldest daughter, and drawn-out scenes of the family having tea and eating elaborate dinners. 
Writer's Block
This psychological drama explores what really happens when you don't know what to write, even as your deadline approaches. Radcliffe plays a brilliant young writer who needs to finish his latest novel, but can't seem to get past this one tricky chapter. Prepare yourself for long stretches of him watching YouTube videos, lots of pacing, and an exciting sequence where he stands in front of the fridge and decides what to eat for lunch. 
Any Indie Love Story Set in Suburban New Jersey
From the producers of Garden State and Elizabethtown comes a film about a twenty-something man (Radcliffe), who just got fired from his big-city job and dumped by his big-city girlfriend and who is forced to move into the detached garage at his parents house in the suburbs of New Jersey. After spending most of the film moping around and miserably enduring dinners with his embarrassing parents, he meets a pretty, quirky girl who inspires him to live his life and pursue his dream of becoming a professional sculptor. The soundtrack is made up entirely of songs your hipster friend thought was cool, like, a year ago. 
The Longest Staring Contest
An emotional roller-coaster of a film that follows a staring contest between two men, one of whom is played by Radcliffe, in real time. With no exposition, flashbacks or creative editing, this film puts you right in the middle of the action, so that you too can experience the twists and turns that come with this exciting game. You'll laugh, you'll cry, and you'll be made incredibly uncomfortable. 
Spackle! The Musical
Radcliffe brings his theater talents to the big screen in this exciting look at the invention and uses of spackle, all told through the medium of song an dance. You'll laugh and learn with the seven-minute opening number, which details all of the ingredients that make up spackle, and the production's big emotional ballad, in which Radcliffe details all of the ways spackle can be used. Plus, after the credits, there's a clip which relives the excitement from the point of view of spackle itself. 
Recorder Lessons
In this rock and roll drama, Radcliffe plays a down-on-his-luck music teacher who discovers that his true calling is playing the recorder, and who sets out to pass along the joy of recorder music to elementary school students across the nation. The film's already received a great deal of support from within the recorder community, many of whom have praised the lengthy scenes of Radcliffe working on individual notes with each student as "riveting" and "full of heart."
The Waiting Room
A cerebral thriller that centers around one man (Radcliffe) and the abnormally long wait he endures before his doctor's appointment. At the end it is revealed that, buried underneath the scenes of endless paperwork, the awkwardness that results when someone sits down right next to him despite there being plenty of open chairs, the out-of-date fishing magazines and the annoying ticking of the clock, the film is a heavy-handed metaphor for purgatory.