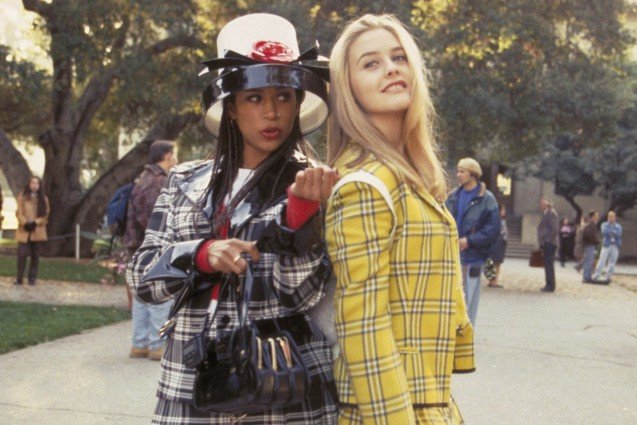 Paramount via Everett Collection
Who knew the world needed the classic '90s film Clueless to be updated for 2014? Apparently Jessica Blankenship and Ella Ceron had an inkling. These ladies created @ModernClueless, the must-follow Twitter account for fans of the film. Instead of drooling over the Baldwins, Cher and Dionne ogle the Hemsworth brothers. Josh is still invested in environmental issues, but now he's reading Mother Jones. And, of course, Murray is on Snapchat.
Blankenship and Ceron have created a hilarious Twitter account with all the modern pop culture references to make everyone's inner Cher Horowitz happy. While you should definitely follow Present Day Clueless, we've gathered our 10 favorite tweets of the updated '90s heroine.
Murray: Woman, why don't you be returnin' any of my SnapChats?

— Present Day Clueless (@ModernClueless) January 10, 2014
Cher's saving herself for Zac Efron.

— Present Day Clueless (@ModernClueless) January 10, 2014
Dionne and I were both named after famous singers of the past, who now use emoiji excessively on Twitter.

— Present Day Clueless (@ModernClueless) January 10, 2014
Cher: Searching for a boy in high school is as useless as searching for meaning in a Tyler Perry movie.

— Present Day Clueless (@ModernClueless) January 10, 2014
Murray: Street art is an increasingly valid form of expression. Most pieces do have mocking, but not necessarily in anarchistic undertones.

— Present Day Clueless (@ModernClueless) January 15, 2014
Last but not least, the wonderful crew at Starbucks for spending hours making those pumpkin lattes, without which I might never be tardy.

— Present Day Clueless (@ModernClueless) January 15, 2014
I know it sounds cray, but sometimes I have more fun watching Netflix than when I go partying.

— Present Day Clueless (@ModernClueless) January 15, 2014
I don't rely on mirrors, so I always take selfies.

— Present Day Clueless (@ModernClueless) January 15, 2014
So, OK. I don't want to be a traitor to my generation and all, but I don't get how people like Miley Cyrus.

— Present Day Clueless (@ModernClueless) January 20, 2014
I am just not interested in doing it until I find the right person. You see how picky I am about my cases and they only go on my phone.

— Present Day Clueless (@ModernClueless) January 20, 2014