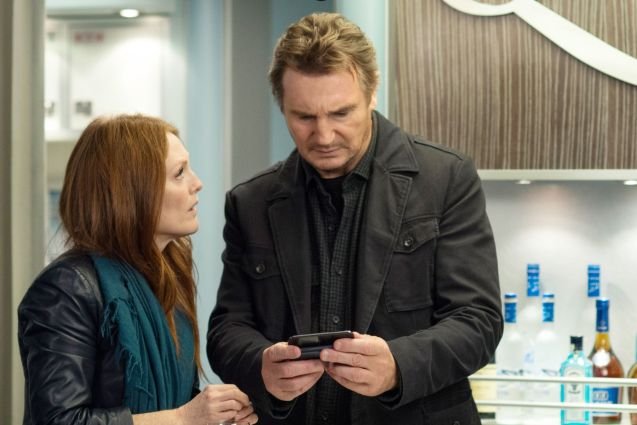 Universal via Everett Collection
You wouldn't take Liam Neeson for a man of many fears — he's fought Batman, Darth Maul, half of Europe, and now a mysterious terrorist hidden aboard a civilian airplane in Non-Stop. But real life Neeson is a gentler sort. In fact, it took him quite a while to board his first flight. "I was a late developer in every department," Neeson told a crowd of reporters during a press conference for the action thriller, now in theaters everywhere. "My first flight [was] at the age of 21, I believe, to fly to Amsterdam from Belfast ... It was terrifying, quite. It was a hop and skip, that's all it was, but that was my first time. I was very, very scared. Very nervous, I should say."
Neeson's Non-Stop co-star Julianne Moore is no stranger to fear herself. The esteemed performer felt that true fear is an important element to gripping movies like the pair's latest. "Whenever you're constructing [a piece of] entertainment, all the kind of thrillers and horror movies, or anything ... with this kind of scare, they're all based on what our natural worries are," she said, delving into her personal perils. "You sort of take them and exaggerate them. Are you scared of ghosts, is it the devil? I'm very scared of the devil."
Moore continued, comparing Non-Stop to some of her favorite scary films: "In this case, you take something that's sort of routine. Obviously when you enter an airplane, you're giving up some control, all of us, and you play on that fear and you take it. And what I like so much about this particular script and [director Jaume Collet-Serra's] handling of it is that he takes a rather ordinary circumstance and turns it into a sort of Hitchcokian event. You know, it's very reminiscent of those older movies and of the disaster movies that I loved as a kid, like Poseidon Adventure and Towering Inferno, so it becomes kind of a classic entertainment."
Alongside the universal notion of fear, Non-Stop delves into gigantic themes like prejudice and addiction. On the former theme, Neeson praised the movie's ability to turn the audience's preconceived notions on their heads. "I think on the first glance [the characters are all] kind of stereotypical. But I think Juame played with that in our own heads too. Of course there's the Muslim doctor. You go, 'Uh-huh, yeah, this is interesting...' But it's not gonna be him. [And] it's not going be the African-American kid that you think is 'definitely the guy.' He's got a real attitude."
Neeson also touched on the topic of his character's biggest struggle in the film: addiction. "He's an alcoholic. He's an addict. That's always in charge, so his big battle is just doing a seven, six-and-a-half hour flight without having a short one. That's his goal, to do that without having alcohol, and of course all s**t breaks loose. And I love the fact that — and it was in the script, but Juame covers it without the audience being banged of the head with it — in the height of the crisis, there's a beautiful bottle of whiskey waiting to be drunk ... It's a little human gesture, I think that resonates with people. It is human and many of us are addicts. So, I like those little human touches."
Moore dived in to explain how this makes Nesson such a compelling hero, beyond the likes of your ordinary action schmoe. "I think that's why audiences respond to Liam this way. I think he does present a very humane, sensitive, complicated person — a real person — who then becomes the hero. It's not like a superhero coming in. You know that Superman's going to be able to do it, he's not even a real person. [But Liam] brings real sense of authenticity to all of these characters."
But even with so many grave themes present, Neeson takes issue when people attempt to draw too much of a sociopolitical statement from films like Non-Stop. "We all know the nightmares of airports. Obviously it's playing on those fears. But it's entertainment. A lot of the journalists in Europe — quite a few, actually — were asking about September 11th [in regards to the movie]. It's like, 'Oh please!' That being said, I don't think the film could be made a few years ago, of course. It would have been totally insensitive. But it's a backdrop to a thriller, is what it is."
Getting more to the core of the story of Non-Stop, Moore and Neeson relished in the fact that the movie was far more a cerebral whodunnit than people might think. Moore was particularly intrigued by the naturalism achieved by the distribution of the characters. "I like the fact that there was a mystery about all of the characters, because I feel like in life, that's the way it is," Moore said. "In cinema, people are always walking into something and saying, 'This is who I am, this is what I want, and this is how I'm gonna get it.' And we don't [do that] in life. Particularly not in a public situation. People don't know your name ... they don't know what you do, and you're not going to offer it up. So, if you start there, you realize this is probably a much more normal presentation in film than what you would ordinarily have."
Neeson agreed that the roles in Non-Stop were all expertly constructed: "I relied on Juame a lot, because he's a very, very prepared director. Any queries we had about the script or what the characters should do or should not do, we always tried to judge it to the Nth degree. Because he was always thinking of the overall arc, the symphony of the whole film. Just the raise of an eyebrow sometimes might be just too much." Still, the actor really seemed to connect with the intensity of the movie's mystery. "There's a great [moment involving Julianne Moore]. When I walk away, she's lying asleep and she just opens her eyes. And it's amazing. Like, 'Oh my God!' Suspicious. And she's just opening her eyes! Every little nuance we were aware could take on some significance."
Finally, the stars were probed about their experiences off set with their many adoring fans. While Moore had nothing but kind words to say about the public — "People are really nice, honestly. Sometimes I really do talk to people and have a really nice conversation. I do talk to women with children a lot, because you feel for them, man. If somebody sits down next to you with a baby, I'm gonna talk to her. Because I've been there." — Neeson had a more... colorful way of dealing with "pesky fans."
"I just say f**k off," the actor claimed. "Especially if it's kids ... Like a Star Wars autograph for some little seven-year-old. F**k off." Of course, he admitted immediately after that this was only a joke, but we enjoyed the story while it lasted.