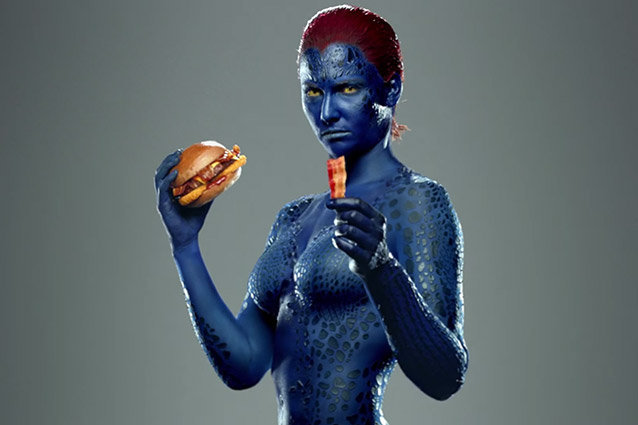 YouTube/CarlsJr
As the second most expensive film ever made by 20th Century Fox (the first was, of course, Avatar), X-Men: Days of Future Past had to fund their epic, time-travelling, mutant-Sentinel battle-filled movie somehow. To this end, the X-Men partnered with some major brands for a wide range of product promotions. The results were some interesting commercials and plenty x-tremely obvious puns. 
Carl's Jr.
When we say "interesting commercials," we mean those ads for Carl's Jr. featuring someone other than Jennifer Lawrence in the Mystique getup. Obviously, that wasn't the only strange thing about these videos: watching close-ups of Quicksilver and Colossus eat their X-tra Bacon sandwiches was equally strange.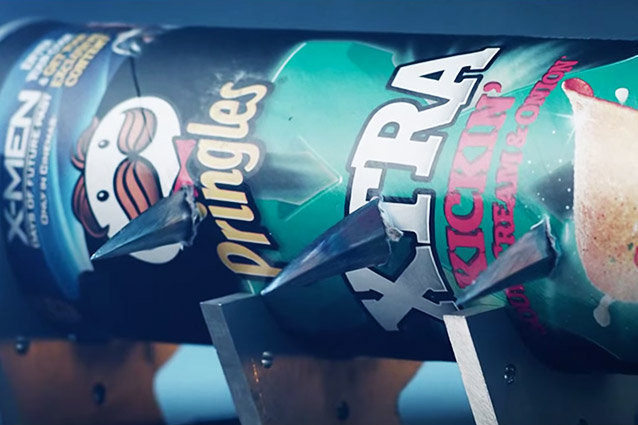 YouTube/pringles
Pringles
One of the better product promotions is Pringles Xtra chips because at least fans were given access to exclusive promotional images and videos on the Pringles site with a code from the products. Plus, who doesn't love Xtra Sour Cream & Onion chips?
FLIPZ®
For fans that love X-Men and chocolate covered pretzel's, FLIPZ released collector's edition pretzels. The three flavors include: Mystique Mint Chocolate, Wolverine White Chocolate, and Mutant Milk Chocolate. We couldn't make this up if we tried.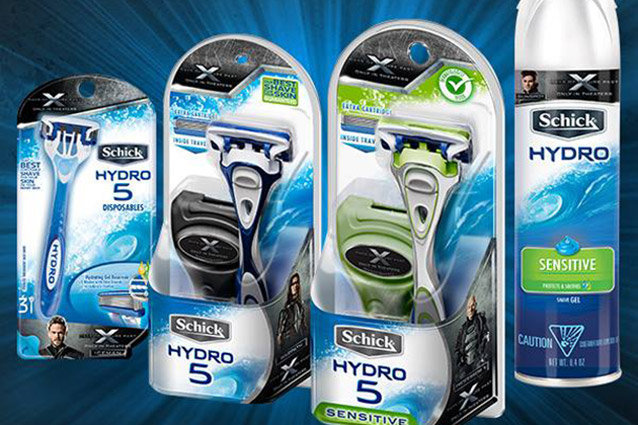 Facebook/Schick Hydro
Schick
If you bought a Schick razor with the X-Men: Days of Future Past logo on it, you became eligible for a "free" exclusive t-shirt. At least this product promotion makes sense, although we have yet to see a tagline about Wolverine using Schick razors to keep his sideburns in top form, which is a seriously wasted opportunity. 
Mountain Dew & Coke Zero
Covering both major soda companies, X-Men: Days of Future Past partnered with Mountain Dew (which is owned by Pepsi) and Coke Zero. Both promotions included special editions Mountain Dew and Coke Zero bottles as well as sweepstakes.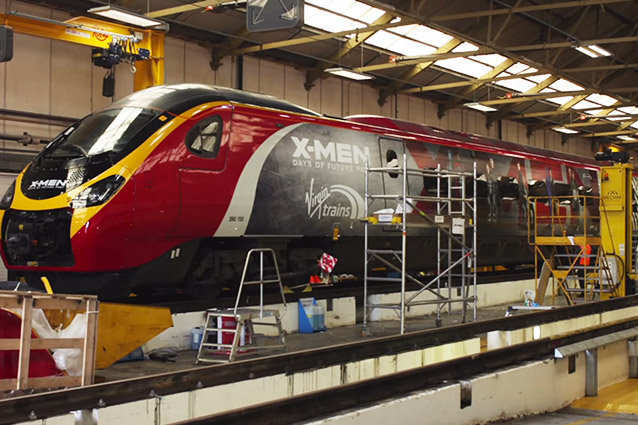 YouTube/VT UK
Virgin Trains
For UK fans of X-Men, the new movie partnered with Virgin Trains to celebrate the film's release by holding a contest to give away tickets to the London premiere. It might be kind of a stretch, but maybe this makes sense: the movie is about time travel, trains help people travel… 
Wyndham Rewards
Since X-Men had food, soda, razors, and trains covered, they obviously needed a hotel partner as well. That's where Wyndham came in. Their loyalty program, Wyndham Rewards, offered an X-Treme Reward of dinner and a movie in honor of the Days of Future Past release.