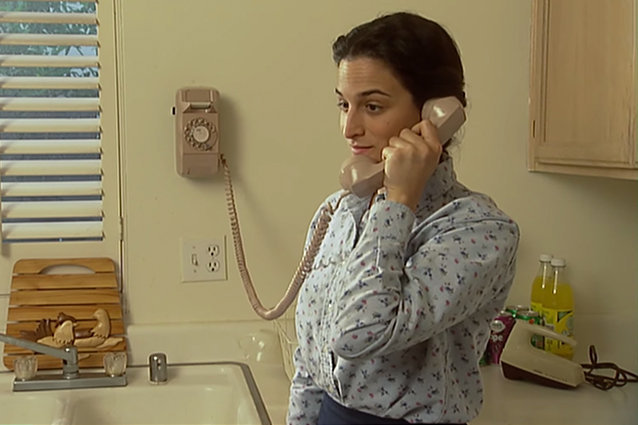 YouTube/buh
A word of warning: Jenny Slate is about to blow up in a big way. The young comedian has been cultivating her career right in the periphery of mainstream attention, but that all might change with her star-making role in the Sundance gem Obvious Child, a dark indie comedy that blindsided festival goers and might give Slate her ticket to becoming a more recognizable figure in Hollywood. Really, you should hitch your ride to her wagon now, so that when everyone's fawning over comedy's biggest it-girl in a few years,  you'll be way ahead of the curve. Slate has been appearing in movies on television for a while now; she had a micro stint on SNL where she's most well-remembered for dropping the F-bomb on national television. But besides giving the FCC another headache, the comedian has appeared in recurring roles on Parks and Recreation, Bob's Burgers, Hello Ladies, and House of Lies. She was also the creative force and voice behind the viral-hit, Marcel the Shell with Shoes On. But one of her lesser known gems: the web series "Catherine."
Written by Slate and collaborator and husband Dean Fleischer-Camp, the series stars Slate as the titular Catherine, and it's a tough one to describe... perhaps frightfully mundane. There's no other way to aptly describe the kooky web-series besides smashing two opposing adjectives together and hoping it all makes sense. The story, told in 12 parts, follows Catherine as she goes to work, talks to co-workers, orders bread and butter sandwiches, and... that's pretty much it. But it's oddly fascinating.
It's an odd experiment in comedy and tone. The actors read their lines in a flat, peculiar monotone, but paired with subtle musical cues, everything begins to feel really creepy, like something is seriously wrong with these people. In an interview with Splitsider, Slate described the creation of the series: "I was super stoned at my house, and Dean [Fleischer-Camp] and I were talking about the idea of 'what is normal and what is neutral.' Not trying to be being boring and not trying to not be funny, but what is exactly straight down the middle? What is it when you're not trying to do anything? You're not trying to be boring; you're not necessarily trying to be funny. You're just existing somewhere in the middle. I started to act out this scene that you see in episode one of 'Catherine.' It made us laugh really hard, so we started to write down more."
It's not for everyone... it might not really be for anyone. But check it out and see if it clicks with your sense of humor.
Check out the first episode here, and find the rest of the series on YouTube.
Follow @Hollywood_com
Follow @CurrentlyJordan