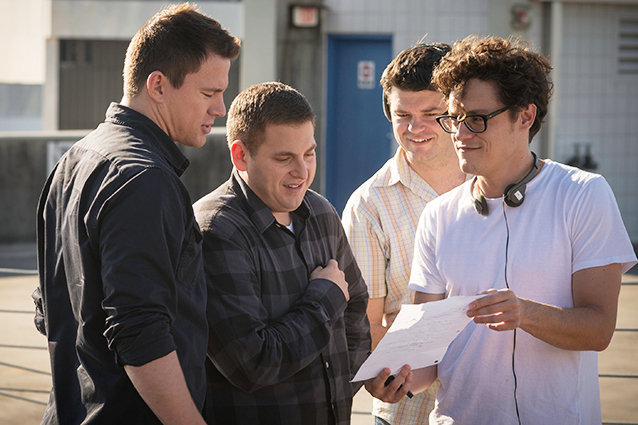 Sony Pictures via Everett Collection
A long way from their little watched but brilliant animated MTV comedy Clone High, Phil Lord and Chris Miller have risen meteorically over the past few years, and have quickly become the brightest comedy duo in Hollywood. The two have been working together for nearly 20 years and have become masters of taking seemingly soulless adaptations and crafting smart and hilariously self-aware comedies. Only a few months after the release of The Lego Movie, the duo's latest, 22 Jump Street, is set to hit theaters on Friday. We got a chance to sit down with this symbiotic comedy writing/directing machine as they discuss the struggles of having two people and only one director's chair, how their particular college experiences made it into the film, and why the best jokes are the ones that not everyone gets.
Lord and Miller discuss the challenges of having two directors working on one film:
Phil Lord: "We're both creative people. We both have a vision of how it should be. Things can't always be exactly the same, and you have to have the humility to let it be the other guy's idea sometimes."
Chris Miller: "It's a big fear for an actor, that one of us is going to say one thing in one ear while the other is going to say the opposite in another and their brain is going to explode. We develop the scripts for a while, and we talk about the scenes a lot and we have a similar sensibility and the same goal for the movie. So when we come into a scene we're pretty much aligned in what we want to get out of it. In the times where we have a disagreement about what we want to get out of a scene, that's why you have multiple takes."
Lord: "It takes just as long to do another take [as] it does to argue about whether you should do another take. Just do one. And I trust this guy if he has something that he wants to do, we should just do it."
Miller: "Yeah, if one of us wants to get a sweeter version or a real wild version, you can figure it out in the editing room."
But sometimes there's trouble in paradise:
Lord: "We've had those moments, like, 'I'm going to lunch with someone else.'"
Miller: "We're like brothers, where we fight and love each other and respect each other. We've had such a long history together. We've known each other for 20 years."
Lord: "Like many men, our strategy of working out our conflict is: get pissed off, walk away, and then never speak of it again."
Miller: "Avoidance. It works!"
The directors discuss how they infuse their own personal brand of humor into their work, even if not everyone gets it:
Miller: "We find that we're trying to make ourselves laugh. Some of that stuff that only a small percentage of the audience gets, it's kind of fun if you're one of the people that gets it. You're part of the club, and if it goes by quickly and doesn't sit there like it's a big swing, then you can sort of get away with it. Sometimes we've tried things that are too obscure but were clearly attempts at jokes. And the audience didn't respond, so we [took] them out ... It's been our philosophy to not talk down to the audience."
The duo discusses their shared comedy touchstones in college:
Miller: "When we met, we had Harold and Maude, The Jerk, Billy Wilder, Young Frankenstein. We bonded over the same movies."
Lord: "You don't like Howard the Duck as much as I do."
Miller: "This is true. See, there you go. We're not exactly the same."
And how their own college hijinks inspired a party scene in the film:
Lord: "Well, we have the best pong-playing [scene] in the history of cinema. Or the most accurate, I should say. We had to teach Channing [Tatum] and Wyatt [Russell] how to play..."
Miller: "Dartmouth style."
Lord: "Very specific Dartmouth rules. Lob only, you gotta use paddles. None of this Beirut throwing nonsense. So we're just off-screen playing in those shots."
Follow @Hollywood_com
Follow @CurrentlyJordan