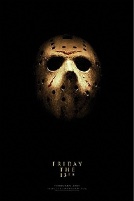 Source: Shock Til You Drop
It looks like Camp Crystal Lake is finally safe for teenagers. According to Shock Til You Drop, Platinum Dunes' partner Brad Fuller responded to a tweet yesterday inquiring about the status of the project, stating that the anticipated sequel is "dead - not happening".
It's a bit of a shocker, considering the 2009 remake pulled nearly $100 million at the worldwide box office (on a budget of around $20 million) and was generally well received by the fan base. The production company was even dropping hints about the sequel's script throughout last year, when it was announced that it would hit theaters this summer. Of course, when the release date was pushed back to May 2011, we knew that something was up - but didn't expect the project to be scrapped.
Though we'll be holding our breath until Warner Bros. officially announced the film to be in turnaround, fans of Jason Voorhees may have to prepare to hang up the hockey mask for awhile...