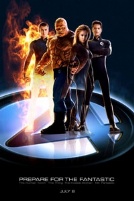 When 20th Century Fox announced that it was looking to continue two of their big franchises - Fantastic Four and Die Hard - the collective movie community was a bit skeptical and unimpressed. Both series' most recent installments (Rise of the Silver Surfer and Live Free Or Die Hard, respectively) weren't all that good and we've been fortunate enough to put them out of our minds three years later.
As the studio embraces franchise fever this year with The A-Team, Predators, Wall Street: Money Never Sleeps and The Chronicles of Narnia: Voyage of the Dawn Treader (not to mention the forthcoming X-Men: First Class and Avatar sequels) it appears as though both properties will prosper in the new decade as Ain't It Cool News reports that Fox has registered domain names for both projects. The names correspond with what we're assuming are the tentative titles of the new films: Fantastic Four Reborn and Die Hard 24/7 (the sites are FantasticFourReborn.com and DieHard247.com, but they don't go anywhere at the moment.)
Akiva Goldsman is producing the Fantastic Four reboot, which aims to reintroduce the characters that brought the studio over $620 million in worldwide gross, while Skip Woods (X-Men Origins: Wolverine) will pen the fifth obscenity-filled adventure of Detective John McClane.
Personally, I'm more excited about the possibility of the Fantastic Four being done right than yet another Die Hard flick. I love my franchise characters and McClane is arguably one of the very best, but I think its time for a change of pace for Mr. Willis. His career needs a jolt of freshness akin to his mid-nineties foray into the unknown with Pulp Fiction and Twelve Monkeys because, after Cop Out and Surrogates, I'm sick and tired of seeing him with a badge. The Fantastic Four still have plenty of untold story for Fox to mine and this is a great opportunity for the studio to redeem itself for butchering the first family of superheroes the first time around. Then again, with Goldsman behind the scenes, we could end up right back at square one...
Source: Ain't It Cool News