& Flash Film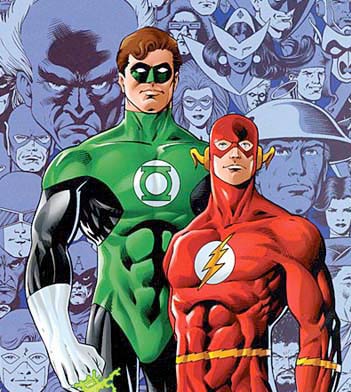 On one end of the comic book movie spectrum, you've got Marvel Studios. They are in post-production on Thor, pre-production on Captain America and The Avengers and are still counting receipts for last months Iron Man 2. On the other end, there's Warner Bros. DC Entertainment, the newly forged entity that will develop and produce all properties from DC Comics' stable of superheroes across all media platforms, with Green Lantern currently filming in New Orleans and a third Batman and new Superman film in development, but that's not all.
According to Heat Vision, the studio with the best box-office track record on the planet isn't wasting any time moving forward with their plans for superhero domination on the silver screen, as Green Lantern writers Greg Berlanti, Marc Guggenheim and Michael Green have been re-hired to suss out a sequel to the forthcoming pic and forge a cinematic origin story for DC's Scarlett Speedster, The Flash.
Development on a Flash feature has had its share of ups and downs throughout the last decade, with Atlas Entertainment's Chuck Roven, Shawn Levy, David Goyer and many others taking stabs at the project before jumping ship. Today's news actually represents the most promising plans for the long-delayed film. Additionally, the trade notes that development on a second installment this far out from a movie's release date (Green Lantern will hit theaters on June 17th, 2011) is rare, signaling the studio's confidence in what it sees so far from director Martin Campbell.
Kudos to Warner's for thinking long term. It's biggest franchise, Harry Potter, will be concluding next summer just a month after the Green Lantern bows and they've long stated that the DC properties will be central to its strategy moving forward. Today's report confirms those claims and helps entertainment journalists like myself see how the studio has its eye on the big picture. Next up should be a development on a Wonder Woman feature - that film would be the final piece in a puzzle that, when fully assembled, will lead into a super-sized Justice League of America feature that will send geek's like myself and mainstream moviegoers alike into a frenzy.
Source: Heat Vision