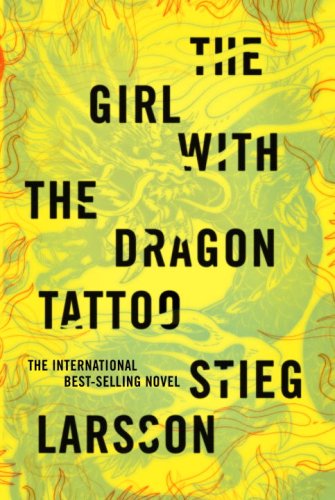 Film buffs must be going bananas this week as Comic Con reveals juicy details and assets from some of the biggest upcoming films due in the second half of this year and in 2011. Next year is shaping up to be a truly epic period for cinema with not one, but TWO Steven Spielberg films, a new Martin Scorsese picture and more superheroes than one could possibly even want (well, maybe). You can now add another highly anticipated film to the calendar, as The Wrap reports that David Fincher's English language remake of The Girl With The Dragon Tattoo will hit theaters on December 21st 2011.
The source got the information from Sony Pictures Co-Chairwoman Amy Pascal (Sony will produce and distribute the film), who revealed some information about her goals for the film and the franchise that it will spawn. On the release date of the film, Pascal says: "I'm going to try to get these movies out as fast as possible. But, you know, we'll have the first one next Christmas. And hopefully, the next two as quick as I can get them. We're trying to figure that out now."
On the search for a leading lady: "We are going to do a global search on her. Every actress in the world wants it.  It's the greatest character for a girl since I-don't-know-what."
Finally, Pascal reassures audiences that Sony's take on the material will not be watered down for the sake of the bottom line: "We're doing the book. That's why we hired David Fincher. We're going to really do this, in all their glory. Otherwise why do it? They're very R-rated movies. It's the shock of what's really going on underneath the surface of society. If you don't actually make good on that, you haven't told the story."
Though the creative direction of this film is sounding excellent, the release date presents some potential problems. I'm sure that moviegoers will have a hearty interest in The Girl With The Dragon Tattoo, as the original has made over $100 million worldwide to date and Steig Larrson's literary series is a major hit as well. But a December 2011 release puts the film up against Steven Spielberg's The Adventures Of Tin-Tin and Martin Scorsese's Hugo Cabret. Hopefully The Twilight Saga: Breaking Dawn Part 1 fever will subside by that time (it will be released on November 18th, 2011), but Warner Bros. Sherlock Holmes sequel will also pose a threat to the box-office take of Fincher's film, along with Mission: Impossible IV and a third Alvin and The Chipmunks adventure. I certainly think that, even though all of these tentpoles surround Tattoo, the audience is there, but the multiplexes of America will be saturated with more mainstream content that might win moviegoers dollars. Sony may want to reconsider the release, as Summer 2012 isn't even as stocked as December 2011. 
Source: The Wrap