The Rise and Fall of Will Ferrell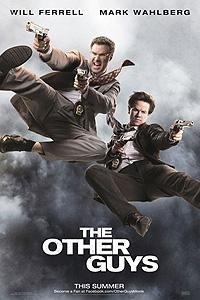 This week sees the release of the latest Will Ferrell film, The Other Guys. Telling you this film is a comedy is akin to making the Earth-shattering announcement that the theater in which you see it will be serving popcorn. Ferrell has made an indelible mark on comedy and become, like it or not, the face of the genre for an entire generation. I will in no way pretend that his work hasn't elicited more than a few laughs from me and I do sincerely think the guy is a comic genius. That being said, I don't think I'm alone in noticing a marked decline in the quality of his work as of late. In an effort to understand this slump, I think it's important to examine his body of work as a whole.
Will Ferrell, like many comedic movie stars, cut his teeth on Saturday Night Live. He entered the cast during the twilight of the era of Mike Myers, Adam Sandler, and Chris Farley. To adopt comic book parlance, I consider this the silver age of SNL. I am sure more than a few producers were concerned about the longevity of the show, even in its 21st season, upon losing that lineup. But along came the likes of Molly Shannon, Cheri Oteri, and a bizarre giant by the name of Will Ferrell. A new dynasty was born.
When Hollywood could no longer ignore Ferrell's talent, his early movie career exemplified the proverbial mixed bag. It began as a memorable cameo in a Mike Myers' passion project: Austin Powers: International Man of Mystery. As if to solidify the existence of the curse of SNL properties adapted to film, Ferrell followed his excellent turn in Austin Powers with bombs A Night at the Roxbury and Superstar. But amidst the abysmal SNL adaptations, he also delivered much smarter comedy gold in Dick.
While I happen to enjoy Zoolander, and more specifically, Ferrell's performance as Mugatu, the film that really propelled his career was undoubtedly Old School. That was the film that showed just enough of his range to convince people that this wasn't just an SNL funnyman, but a potential movie star as well. He then displayed even more range and heart with John Favreau's Elf, which has become one of my favorite Christmas movies of all time. If Ferrell had people convinced he could be a comedy frontman with Old School, it was Anchorman that made Hollywood realize just what kind of major player he could be.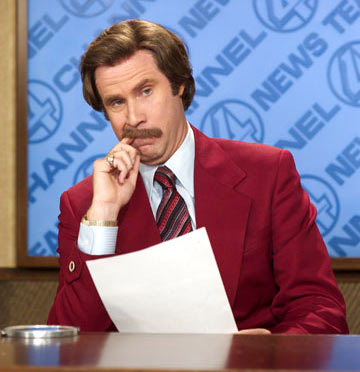 As much as I love Anchorman, and believe it to be a superb comedy, this success was a mixed blessing for Ferrell and the source of his current stagnation. I'm sure some of you are questioning my mental faculties right now, and I don't blame you, but Anchorman truly created a monster. As heartily as we all laughed at the blundering, misogynistic buffoon that was Ron Burgundy, we didn't realize Ferrell would play this same character for the next four years. This developmentally arrested man-boy would rear his head in Talladega Nights, Blades of Glory, Semi-Pro, and Step Brothers.
It's one thing to create an incredibly unique character and play the part to perfection once, but it's quite another to beat a dead horse until one becomes a parody of oneself. In the midst of all this, Ferrell did attempt to flex his comedic and thespian muscles with films like Melinda and Melinda, Winter Passing, and Stranger Than Fiction. All great performances, all largely unheralded at the box office. I believe the lack of commercial success for his more artistic endeavors is what drove Ferrell time and time again back to this tired but tried-and-true formula. I also believe this is exactly why he's struggled of late trying to break away from that archetype. Ferrell's only vehicle since the last gasp of the dying man-boy persona (in Step Brothers) was the unfortunate Land of the Lost, which failed to deliver, to put it lightly.
It's interesting to me, and really telling when you think about it, that since Stranger Than Fiction, Ferrell's best work has been in cameos and internet memes. His series of web shorts featuring a precocious little costar were hysterical, my favorite being "The Landlord," and his stint on Eastbound and Down was fantastic. Hopefully, the very fragile and meek police officer in The Other Guys will be the role that snaps his losing streak and definitively breaks him free of Ron Burgundy.