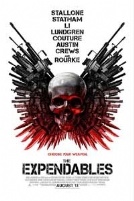 1. This Weekend's Box Office Determines Our Future.
The stakes could not be higher: the future of our country. Okay, that may be overstating it. But here's how I see the various scenarios playing out:
If The Expendables Finishes First
Biggest Winner: Jason Statham, who still has twenty years left on his action career.
Biggest Loser: The guys who thought this would be a good date night.
Future Impact: The Expendables 2, featuring Steven Seagal and Jean Claude Van Damme as the bad guys. Cameos from Vin Diesel and The Rock.
If Eat Pray Love Finishes First
Biggest Winner: Tourism. Who else is up for a year off?
Biggest Loser: Oprah and the women who thought this would be a good date night.
Future Impact: An Eat Pray Love sequel in 3-D! The food and lovin' come right out at ya!
If Scott Pilgrim Finishes First
Biggest Winner: We, the people.
Biggest Loser: Fans of movies without CGI flourishes.
Future Impact: It's not going to happen. But if it did it could possibly send a message to the studios about innovation and creativity having merit. So yeah, don't hold your breath.
2. Put Mesrine: Killer Instinct On Your Radar.
There's a French film headed your way in the form of a limited release next weekend, it's the dramatic rendering of Jacques Mesrine, a hardened criminal from the '60s and '70s that terrorized France, Canada, and the United States. I hadn't heard of Monsier Mesrine before I headed into the theater, but yowsers, he's on my radar now. The film starts a bit slow, and there are parts that are formulaic, but it ends in a flurry, and it's only part one of two. This guy did so much damage he requires over four hours of narrative! To be clear, he was a monster. But the story is fascinating, especially if you go in cold. Between this and Un Prophète French cinema is on a violent roll.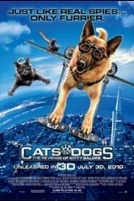 3. Was Cats & Dogs: The Revenge of Kitty Galore The Worst Idea of the Year?
It's been a banner year for terrible ideas. Consider:
Jonah Hex
Furry Vengeance
Marmaduke
Still, you have to hand it to Warner Bros., they waited nine years to bring the sequel to the big screen. Think of the implications of that, the kids who saw it when they were nine years old are now eighteen. Do you think they rushed out to catch this one on summer break after graduating from high school? It's as if they completely missed what gives a sequel an advantage: familiarity. When you wait nine years you're clearly hoping for a whole new crop of youngsters to see your movie. But then why make a sequel? See? It's a riddle wrapped inside an enigma stuffed inside a bad idea.
Could this have been a money laundering scheme? Where did the $85 million go? How did they spend that much? I have so many questions about Cats & Dogs 2 but I know it will never be heard from again. Could we get the people behind Who Killed The Electric Car? or An Inconvenient Truth to do some investigative reporting on this one? I could see a documentary on this weighty topic sweeping though Sundance. My ideas for potential titles on said documentary include Setting Money on Fire and The Sequel That Wasn't.

4. Rian Johnson's Looper Will Be Just Like if Jumper Was a Good Movie!
I've found much to love in Rian's first two films, Brick and Brothers Bloom. These are clever films, though painfully underrated; I highly recommend renting either of them. Brick shows off early (vintage) Joseph Gordon-Levitt, it's noir meets the drama of high school. Brothers Bloom is all about the con game -- Rachel Weisz, Adrien Brody, and Mark Ruffalo provide both laughs and poignancy. You can't put a price on poignant, can you?
Now where was I? Ah, yes, the promise of Looper. The plot looks like this:
Set in a near future where time-travel allows a group of hired guns (called Loopers) to eliminate the targets of their crime-lord employers from the future, will begin shooting in January.
My one worry would be that Bruce Willis' assassin character will be too close to his work in Lucky Number Slevin and the time travel aspect definitely brings up images of Twelve Monkeys. But I'm willing to take that chance because Rian Johnson is going to win one of those Best Director statues one day, and I want to get in on the ground floor of his fandom. Plus, the concept of time travel assassins remains compelling, no matter how much Hayden Christensen and company booted the last attempt.
On that note, I hope you all have a great weekend, full of very little time travel!
Check out last week's Movie Musings here
Laremy is the lead critic and senior producer for a website named Film.com. He's also available on Twitter.