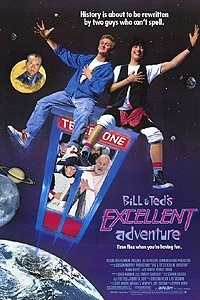 It's been nearly 20 years since we last saw Keanu Reeves as the metalhead slacker Ted - the role that first put him on the map in Hollywood in the 1989 cult comedy Bill and Ted's Excellent Adventure and its 1991 sequel - so in this age of remakes and reboots, it's something of a surprise that we haven't already seen the franchise become a trilogy.
Alex Winter, who remains best known for playing Bill - the other member of the classic stoner duo - aims to change all that.  Though the actor-turned-director has been working on the potential threequel on and off for a number of years, he told MTV that "we have finally hit upon an idea that we think is pretty great," and the project has acquired some exciting momentum.
While he wouldn't reveal any potential plot points, Winter was eager to talk about the sentiment behind the project, which he aims to keep strictly in line with the sensibility of the originals.  "We kicked around the idea over the years and had always thought if we could make something that was as kind of genuine in spirit as the originals and without falling prey to kind of retro cynicism or something that was unnecessary, it would be worth doing."
"The essence of what we've always wanted to do is to make a 'Bill & Ted' movie," he continued.  "We don't want to make a cynical 'here's Bill and Ted — you guys are our kids, now YOU guys go be Bill and Ted and the franchise can live for another 25 years!'  It's not that. It's a straight up, what's the funniest and most surprising take on where Bill and Ted would be right now if we stopped back in on them?  That's what we're doing."
Hopefully Winter, along with screenwriters Chris Matheson and Ed Solomon, will find a way to move forward without Rufus, the time-traveling ambassador from the 27th century tasked with ensuring Bill and Ted successfully form their band "Wyld Stallyns" (whose music will become the cornerstone of a future Utopian society), who was played by the inimitable George Carlin, who passed away in 2008.  "It's really complicated," said Winter.  "He was such a big part of the spirit of the originals, and we've been trying to be clever about making a new one that can handle the Carlin issue.  It's actually stopped us in the past - why do it without Rufus?  We've been delicate about moving around him."
When asked if someone else could play Rufus, Winter grew defensive.  "That would be horrible.  That's the thing about the movies — they're personality-based. It's Reeves' personality when he's doing comedy, it's my personality and it was George's personality. It doesn't really work when you're pretending that other people are those people, because there's just not that much there [otherwise]. No, we're definitely not going to recast Rufus."
I've no idea what a third 'Bill and Ted' movie would look like, now that Reeves and Winter are in their mid-40s, but the mere prospect of seeing their characters returning to the screen should be enough to make any true Gen X-er smile.  Whether the project will move forward beyond scripting will obviously depend on the strength of the screenplay, something Winter says they'll consider once the writing process is complete.  "It's a question of when the script is done, when Reeves is free, when I'm free, and getting the whole damn thing up and running," he added.  "It's a whole process."
Source: MTV