Most of us have short attention spans. For a generation that has such trouble focusing, we sure have cruelly complicated tastes. Namely the Harry Potter series. Our A.D.D.-riddled generation is obsessed with one of the most complicated stories there is out there. With that in mind, we've got the plots of each film in a format that's a little easier to comprehend: a tweet. (Or in 140-characters or less, to the twitter-illiterate.)
Whether you're looking to quickly refresh your memory or your significant other is insisting that you attend the midnight screening with all the super fans even though you know nothing about Potter, but you're still hoping that the movie is an opportunity to get lucky later, these speedy summaries might be helpful.* Harry has explained the last 7 years of his life in less than 5 minutes (okay, it's not really Harry, it was me; just go with it), so now you've got no excuse for not being caught up in time to see Harry Potter and The Deathly Hallows: Part 1 this weekend.
*If you really know absolutely nothing about Potter (movies or books), you're kind of screwed. If, however, you must see the movie in this condition, please, PLEASE don't be the guy asking "Who's that?" "Where are they going?" "Why are they doing that?" "What's a wizard?" every five seconds or I can almost guarantee you will become the guy who is also pelted with movie snacks that may or may not include Bertie Bott's Every Flavor Beans and Butter Beer.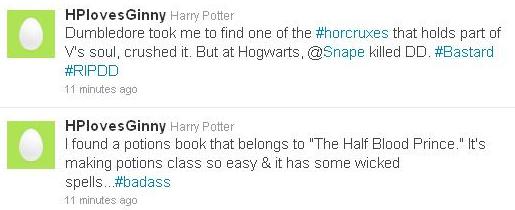 Harr
y Potter and The Deathly Hallows