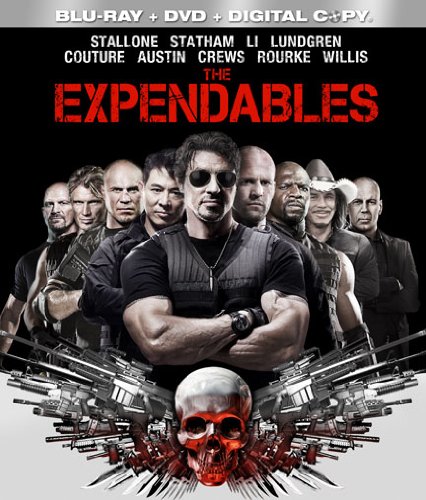 The Expendables explodes into your home theaters this Tuesday and let's be honest, this is a movie that you should have seen already. Sly, explosions, Statham, explosions, Willis...you get the point. But maybe you missed it. Or more importantly, maybe you just have to own the face-melting awesomeness. Well you can buy it starting Tuesday November 23rd or you can get a freebie from Hollywood.com!
How to Enter
1. Become a Fan of Hollywood.com -
Go to our Facebeook page here and click the LIKE button at the top of our page.
2. "Like" our Post -  Go to our "'The Expendables' Giveaway" post and click the LIKE button below it.
We'll pick one winner at random but you must be a fan of Hollywood.com on Facebook and you must have clicked "like" on the post there.
Note: Winners must have valid US address.
The Prize
One copy of The Expendables Blu-Ray/DVD/Digital Copy
BLU-RAY COMBO PACK SPECIAL FEATURES*
DISC ONE
- "The Expendables: Ultimate Recon Mode" in-movie BonusView™ feature (Blu-ray Exclusive)
- "Comic Con 2010 Panel" (Blu-ray Exclusive)
- Audio Commentary with Sylvester Stallone
- "Inferno" feature-length "making of" documentary (Blu-ray Exclusive)
- "From the Ashes" Post Production documentary (Blu-ray Exclusive)
- Deleted Scene
- Gag Reel
- Marketing Archive including Trailers and TV spots
- Metamenu Remote and BD Touch enabled
- D-BOX Motion Control Enabled
*Subject to change
DISC TWO
- Standard Definition DVD of the feature film
DISC THREE
- Standard Definition Digital Copy of the feature film
DVD SPECIAL FEATURES*
- Audio Commentary with Sylvester Stallone
- "Before the Battle" featurette
- Deleted Scene
- Gag Reel
- Marketing Archive including Trailers and TV spots