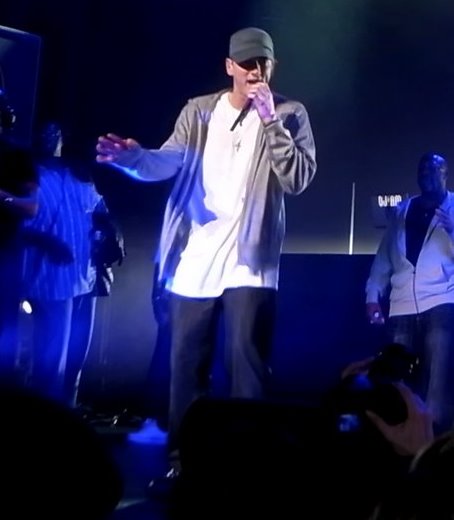 Eminem has seen some ups and downs since he made his first feature, 8 Mile, in 2002.  At the time, the rapper was at the top of his game, with three bestselling albums under his belt and plenty of critics surprised to find themselves praising his acting work.  After his initial success, Em got hooked on prescription drugs and released the two worst records of his career - Encore in 2004 and Relapse in 2009.  Now things are looking up again for the newly sober rapper, whose recent self-proclaimed comeback album Recovery just received ten Grammy Nominations, including Album of the Year and Song of the Year for "I Love the Way You Lie" with Rihanna.
In other words, it's the perfect time for Eminem to head back to Hollywood.
Deadline's Mike Fleming reports that the rapper also known as Marshall Mathers is set to team up with Sons of Anarchy writer-creator Kurt Sutter for Southpaw, a starring vehicle that will see Eminem playing a welterweight boxer fighting his way to stardom.  As in 8 Mile and his rap lyrics, Southpaw will deal with the same struggles and tragedies that Eminem has battled throughout his life.
"I know he's very selective and doesn't do a lot," Sutter told Deadline.  "But he shared so much of his personal struggle in this raw and very honest album, one that I connected with on a lot of levels.  He is very interested in the boxing genre, and it seemed like an apt metaphor, because his own life has been a brawl."
DreamWorks co-chairman Stacey Snider, who was one of the first to champion 8 Mile when others were still skeptical, brought the pitch to her studio, which quickly acquired the project.  Sutter will start writing a script immediately, with plans to turn in a draft by February, before his FX series begins gearing up for its fourth season.
"I took meetings with Marshall's producing partners over the past seven years," Sutter said.  "In a way, this is a continuation of the 8 Mile story, but rather than a literal biography, we are doing a metaphorical narrative of the second chapter of his life. He'll play a world champion boxer who really hits a hard bottom, and has to fight to win back his life for his young daughter. At its core, this is a retelling of his struggles over the last five years of his life, using the boxing analogy. I love that the title refers to Marshall being a lefty, which is to boxing what a white rapper is to hip hop; dangerous, unwanted and completely unorthodox. It's a much harder road for a southpaw than a right handed boxer."
Source: Deadline