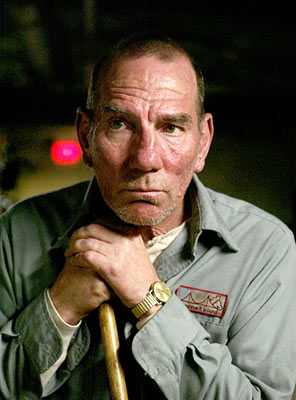 It's hard to find a face like that.
Academy award nominated British actor Pete Postlethwaite passed away yesterday from a lengthy battle with cancer.
A long celebrated character actor, Postlethwaite was diagnosed with cancer in 1990 but continued to work throughout his treatment. He appeared in two of 2010's most celebrated films - Ben Affleck's The Town and Christopher Nolan's Inception. He also appeared in this year's Clash of the Titans, but we like the guy so we'll just leave it at that. After appearing in Steven Spielberg's Lost World, the acclaimed director called Postlethwaite "the best actor in the world." Ever the humble jokester, Postlethwaite later quipped "I'm sure what Spielberg actually said was, 'the thing about Pete is that he thinks he's the best actor in the world.'"
In 1993 Postlethwaite garnered a Supporting Actor Academy Award nomination for In The Name Of The Father where he played Daniel Day-Lewis' father. He is survived by his wife, Jacqui, his son Will and daughter, Lily.
Source: People