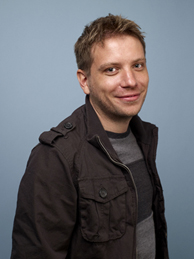 In a play-it-safe professional move, Gareth Edwards - the man behind festival favorite Monsters - has taken the reigns of Legendary Pictures and Warner Bros. developing Godzilla remake. Warner Bros. will co-produce, co-finance and distribute per its deal with Legendary. Legendary's Thomas Tull and Jon Jashni are producing along with Dan Lin, Roy Lee, and Brian Rogers.
David Callaham (The Expendables) wrote the original version of the script for this new take on Toho Inc.'s infamous giant lizard, but The Hollywood Reporter notes that Edwards and studio executives will look at new writers to re-work his screenplay. Edwards, who publicly acknowledged that Monsters was made to attract more (and bigger) projects, seems to have hit the goldmine.
Still, it seems like a lazy move for the innovative, DIY filmmaker. He's worked in this genre before, successfully, and has made a name for himself as a talented and capable storyteller. If I were in his shoes, I'd seek out something a bit more risky and/or original. I won't use the word "challenging" because taking on a 21st century Godzilla is no easy task. I will say that I'm more interested in the "epic sci-fi project" he's cooking up with Timur Bekmambetov. Looks like that'll have to wait, however, because Godzilla certainly won't...
Source: THR