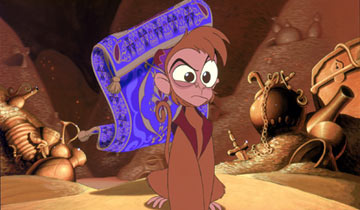 Well this sounds like a really great idea or really terrible idea. DreamWorks just fast-tracked Monkeys of Bollywood, an animated film about... wait for it... monkeys in, wait for it again... Bollywood (it should be noted that this is a working title).
Gurinder Chadha & Paul Berges are writing the film. Two things of note about these writers: 1) they wrote Bend it Like Beckham, which had the dubious honor of being broadcast in North Korea and 2) they wrote Bride and Prejudice, which is a real movie.
Anyway, the film supposedly follows two common monkeys who have to rise to the challenge and save the world from a long forgotten demon. Considering the glamor of Bollywood mixed with the fun and limitless possibilities of animation, this could actually be a decent film. The only thing holding me back is this quote from DreamWorks Animation's Chief Creative Officer, Bill Damaschke. He said, "together we will create a movie that is full of magic, fantasy, adventure, comedy and emotion in which inspiring songs and dances will delight audiences everywhere." Bluuuuuuuuuuurgh.
Source: ComingSoon