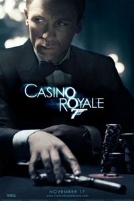 Are you ready for a battle of the multi-billion-dollar conglomerates? THR reports that Sony Pictures, 20th Century Fox and Paramount Pictures all want to be the new official distributor of the beloved James Bond series and MGM managers Gary Barber and Roger Birnbaum are taking meetings all around Tinsel Town to find the right fit for the franchise.
There are pluses and minuses for all potential partners in this puzzle. Sony distributed both installments of the revamped Bond franchise since Daniel Craig took over; Casino Royale and Quantum of Solace proved to be both popular with critics and profitable at the box office. This would make the company the best pick, in my opinion, as its experienced in marketing the character. Of course, Fox has long been trying to develop its own spy series. It had its heart set on bringing 24's Jack Bauer to the silver screen, but after a draft of the screenplay for that film was rejected, no one really knows what's happening. The News Corp.-owned film studio could only benefit from having a property like Bond in its stable.
On the other side of town, Paramount Pictures is also campaigning for the films. The Viacom-owned entity has been producing Tom Cruise's Mission Impossible series for 15 years now and has a new installment heading to the multiplexes of America this December, but if the film doesn't perform like past entries the studio may be keen on ditching the franchise in favor of a time-honored property.
Bottom line: James Bond is a character that any big company would want to have a piece of. All of these studios have the resources to bring his grand, globe-trotting adventures to the public in good form, so it really comes down to back-end deals and Hollywood politics. However, my only wish is that Birnbaum and Barber keep Fox as far away from my favorite super-spy as possible because the studio isn't the best at handling big franchises and pre-existing properties unless James Cameron is behind them (case in point: The A-Team, Predators, etc.).
Source: The Hollywood Reporter