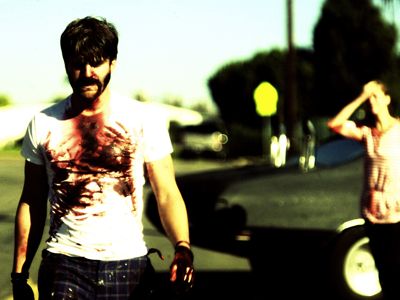 This year, Sundance introduced the "NEXT" series, a much-needed new category of competition films with a focus on the little -to-no budget indies that, through mostly miracle, are completed and primed for an audience.
A film has many parts and the miracle, in the case of the NEXT films, is all of those components falling precisely into place while being produced for only a few grand. Sure, the movies coming out of this category don't look like a summer blockbuster (or are even on par with most "independent" films), but the fact that they're watchable is wowing enough.
That's what makes Bellflower, one of the most buzzed about films at the entire fest, so impressive. Shot for pennies, writer/director/lead actor Evan Glodell's bizarre amalgamation of love story, post-apocalyptic western and love song to cinema is not only entertaining, but absorbing. Centered on Glodell's character Woodrow and his best friend Aiden, Bellflower features laid-back comedy stylings on par with Superbad peppered with the occasional flamethrower spray or muscle car chase. Mad Max would have a field day with these two.
The problem with broad appeal for do-it-yourself filmmaking has been the detachment that comes with the low-fi appearance - but Bellflower could break through that barrier. The film doesn't rely on a gimmick like the ubercheap Paranormal Activity, but delivers on its weird reality to suck its audience in. The visuals are cool, the sound OK, but what enriches the film is great characters and a unique spin on a common tale. Bellflower isn't Mumblecore or a student-level "good try." These guys made a real movie and it kills with audiences. (Click here to listen to our exclusive podcast with the creators of Bellflower)
With fancy moviemaking technology becoming more available to budding filmmakers, the next off-beat hit may not come from a studio backlot, but some random guy's backyard. Who would have thunk? The story-first approach may actually work!