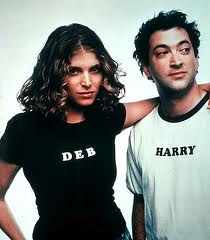 Remember the Amy Adams/Matthew Goode rom-com Leap Year? No? You know, the one where the girl proposes to the guy in some kind of Irish tradition? I don't blame you for forgetting that absolutely atrocious movie; it was easily one of the worst of 2010. Not necessarily because of its stars; I think the blame falls on its lifeless writers Harry Elfont and Deborah Kaplan, who've penned past gems like Surviving Christmas. Ouch.
You'd think that Hollywood would wise up and keep scribes with track records consisting of dull films out of the spotlight, but these two dingleberries just got themselves another gig. Deadline reports that they'll tackle the bestselling novel "Men Are From Mars, Women Are From Venus" for Summit Entertainment, a company that has already made a fortune on dumb romance films. The 1992 John Gray novel highlights the vast differences between the sexes and attempts to bridge the gap (as if that was possible). Harry and Deb will attempt to turn the book into a generic romantic comedy; it shouldn't be too hard for them.
Oh yeah, they're directors too and though there's no word yet on whether they'll helm the feature, their experience making films like Josie and the Pussycats and Can't Hardly Wait may entice Summit execs to tap them for behind-the-camera duties as well. I shudder to think what this is going to turn out to be...
Source: Deadline