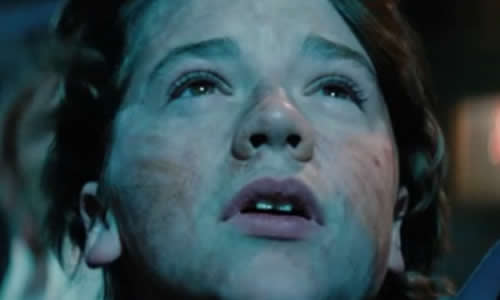 Last night, Paramount unleashed a few scenes from the highly anticipated J.J. Abrams flick, Super 8, along with a little intro from J.J. himself, for the New York press. We were lucky enough to nab a seat in that audience and get a glimpse at some of the magic and mystery that Abrams has been brewing in super secrecy with the help of the king of sci-fi himself, Steven Spielberg. We'll be more specific, but at its simplest, Super 8 looks to be an incredible ride and it seems that summer can't come soon enough.
Without spoiling anything you haven't seen in the trailer – because half the fun of an Abrams movie is the surprise and the joy of unraveling the mystery – the sneak peek included the entire scene that is the crux of the whole film. The gaggle of Spielbergian kids witness a freak train accident while filming their amateur zombie movie with – you guessed it – super 8 film. The concept is that the camera hits the deck as soon as the explosive scene begins, capturing all the mysterious action as the kids flee for their lives. The cut we witnessed last night was unfinished and in need of some editing – this is not a dig, J.J. said it himself – but it was enough to give a feel for the film we'll encounter this summer.
What I loved about the footage was that it confirmed all these wild claims that have been thrown around about Super 8. We've heard that it's like The Goonies and E.T. and Close Encounters of the Third Kind. These heavy comparisons have been tossed around lightly ever since the full trailer hit, but it's difficult to think that anything can really be so much like those classic films without bordering on reductive homages or caricatures. As much as I love what we've seen from Abrams, I was hard pressed to see how this film could claim to be on that level, but in a quick 22-minute preview my smug apprehensions were silenced. It really does have that classic and somewhat innocent air of mystery that Spielberg captures so well.
What's so great and so exciting about Super 8 is that it truly looks to be a unique story that will take us places we've never been in other films. However, just as it's leading us down a new path, it's very aware of the films that came before it and made it possible. It all feels very Abrams-like, from the dramatic lighting to the intensity of the mystery to the incredible action sequence, but throughout the scenes we saw, there were whispers of classic Spielberg films – like E.T. and like Close Encounters – that enhance the viewing experience rather than detract from it.