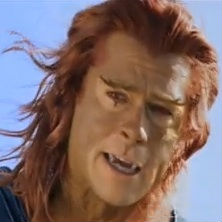 The ideology most often contemplated by the great young minds of today on the darkest, most pensive nights is the steadfast dedication we hold to our favorite television shows of our younger years. Really, when is someone going to turn all those old shows into movies?!
Well, they did it with The Smurfs, which means the trend might be picking up. But as we wait patiently for our favorite toons to get the big screen treatment, we bask in the creative genius of dedicated YouTubers who've turned their favorite old shows into movie trailers. After sorting through the entire Internet, we found the best of the best trailers, ranging from shiny, high quality videos to shorts that relies solely on our rabid nostalgia. Either way, they're a great blast from the past and make us even more hungry for cartoony adaptations:
10. THUNDERCATS
Thundercats was a high-intensity thrill ride of feline mythology. The fact that it has yet to actually materialize as a movie is both fiscally irresponsible and culturally indignant.
9. SESAME STREET
This isn't a particularly well-crafted trailer, but it deserves credit for the Count's hilarious one liner.
8. POKEMON
Take a dark look at the video game/cartoon series/successful worldwide brainwashing ploy that prepared my generation for a life of addictive behavior.
7. SAMURAI JACK
Samurai Jack could abe an incredibly stellar movie, if done by someone who actually watched the cartoon. This trailer hints at the awesomeness that could come from a live-action adaptation, consisting mostly of lore delivered over a series of marital arts shots.
6. POWERPUFF GIRLS
This is a laugh-out-loud funny, and incredibly well done cut-together of a movie trailer that takes zero liberties with the Cartoon Network series that I so emasculatingly loved.
5. SUPER MARIO
This indie look at the video game series (and various cartoon and live-action adaptations, all of which I watched with vigor) is beyond hilarious to fans of Mario and people who've seen more than their share of SXSW films.
4. CARE BEARS
This ups the ante by assigning the harmfully saccharine Care Bears series with the distinct directing style of Michael Bay. Horridly hilarious.
3. GUMMI BEARS
Watching this trailer made me remember specifics about the Gummi Bears cartoon that I haven't thought about in almost two decades. In other words: huge success.
2. THE LEGEND OF ZELDA
The big reason this one didn't take the Number One slot is that its TV incarnation is almost completely forgotten in favor of the far (like, parsec far) superior video game series. But Link, appropriately silent, does get some shining moments in this trailer.
1. DOUG
Nothing needs to be said. Stop reading my idiotic ramblings. Just watch this sensation. Now. NOW.