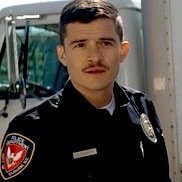 If you think the only place quality film can premiere these days is in your local megaplex, think again.
Main Street, a new film from director John Doyle and legendary screenwriter Horton Foote (To Kill a Mockingbird, Tender Mercies), stars Oscar-winning actor Colin Firth, Oscar-winning actress Ellen Burstyn, Oscar nominee Patricia Clarkson, Orlando Bloom and Amber Tamblyn in a drama that hits VOD today before leaping into theaters September 9. The movie centers on Firth's character, who stirs things up in a small Southern town with a potentially deadly plan that could also revamp the dying suburbia.
That's right—now you can enjoy classy drama from the comfort of your own home!
Check out this exclusive clip, in which Orlando Bloom gets all up in Colin Firth's grill. Angry southern accents a plenty.
Main Street can be found on demand now.